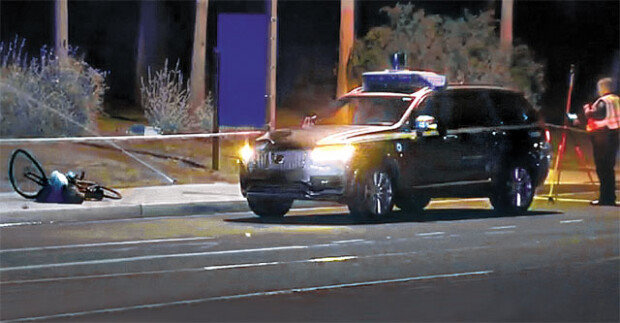 An autonomous car operated by Uber, an American ride hailing service, struck and killed a pedestrian for the first time. This would trigger controversy over safety of autonomous cars projected to be commercialized in the near future, and heavily affect the entire industry.
The Associated Press and The New York Times reported that an Uber vehicle in autonomous driving mode with a human backup driver at the wheel hit Elaine Herzberg (49) who was crossing Mill Avenue at its intersection with Curry Road in Tempe, Arizona. Herzberg was walking with her bicycle outside the lines of a crosswalk. A Tempe police spokesperson said the car was moving around 60 kilometers per hour and did not slow down before impact. The victim was rushed to a hospital, but eventually died. The driver did not realize the accident until he heard a bang.
The National Transportation Safety Board dispatched a team to investigate the circumstances. Countries with an advanced transportation system such as the United States thoroughly educate drivers to stop when there is a pedestrian on the road even outside of crosswalks. It is said that the accident occurred because Uber's self-driving car has not learned such traffic rules and the victim did not recognize the car was in self-driving mode.
wizi@donga.com