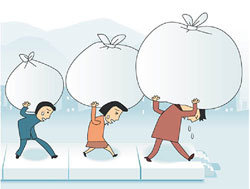 "An Easily Written Poem" by Yun Dong-ju starts as follows: "Outside the window, the night rain whispers/ YookCheobBang is another country." Yoon wrote this poem at the age of 25 when he was studying at Rikkyo University in Japan. YookCheobBang refers to a small room with six tatami mats, which is so small as 9.9㎡ in today's standard. Not a few college students nowadays still struggle to study, living in such a small rented rooms as Yun Dong-ju did.
Every start of a new semester, so many university students scramble to find a place to live. Students pay a monthly rent of about 500,000 won with 10 million won deposits to rent a small studio around major universities in Seoul. A statistics compiled by the Seoul metropolitan government last year found that three out of 10 students, who attend a university in Seoul, were from local cities. But only 10.9 percent of university students from local cities were able to stay at school dormitories at affordable price.
A realistic solution would be to construct more dormitories to accommodate more students. According to the data released by the Korean Council for University Education last year, four-year-course universities were capable of accommodating only 21 percent of their students, and the number fell to a mere 16 percent for universities around the capital area. The efforts by universities to build more dormitories are often met with protests from the neighboring residents. For example, Korea University's plan to build a new dormitory that can accommodate 1,100 students has been stalled for five years, as the district office has been refusing to approve the construction due to complaints from the residents. The residents are afraid that the newly-built dormitories would hurt their rental income and negatively affect the price of their property. The plans to build a new dormitory have become unclear due to conflicts with residents for six universities in Seoul, including Chongshin, Hanyang and Hongik University.
College students struggling to find a place to stay are now even called "modern time refugees." The difference in the quality of life between students from high-income families and low-income families is widening. Those who have to work part-time jobs to pay the rent find it hard to focus on studying. This negatively affects their chance of graduating and getting a job. The vicious cycle of polarization gets repeated. We cannot afford to sit back and do nothing about the pain of young people who say out of desperation, "The more you live, the more you suffer losses."
Jin-Kyun Kil leon@donga.com