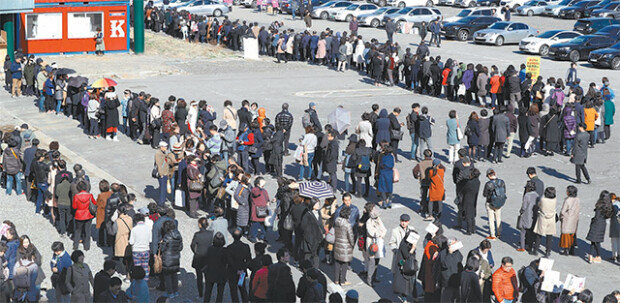 A model house of "THE H Xi Gaepo" has opened Friday in Yangjae-dong, Seocho-gu to attract more than 1,000 visitors lined up from as early as 9 a.m. to take a look at the house. On Friday alone, around 15,000 prospective subscribers visited the model house. "It's called the 'Lotto Apartment,' so I came to take a look and waited in line for four hours," said Park Jin-yeong, a 44-year-old housewife from Jamsil-dong in Songpa-gu, one of the visitors on Friday.
What is drawing a particular attention is the apartment's price, which is quite lower than other apartments in the neighborhood. The price of this complex is an average 41.6 million won per 3.3m², and a floor space of 84m² is priced at around 1.4 billion won. Given that the same space unit of "Gaepo Raemian Blesstige," which received initial subscribers in March 2016, is priced at over 2.1 billion won, the price of THE H Xi Gaepo is indeed lower by more than 30 percent.
Also, the number of lots on sale is 1,690 units, far greater than that of other reconstruction apartments. When it comes to another so-called "Lotto Complex," "Sinbanpo Central Xi" in Jamwon-dong, Seocho-gu, only 142 units were up for sale for the general public, so 168 applicants had to compete for one lot on average in September last year. Thus, it seems a considerable number of prospective home owners, who had to experience repeated frustration over subscription for reconstructed apartments in Gangnam district, are now betting on "THE H Xi Gaepo" with great hopes.
Those who visited the model house Friday were mostly in their 40s or 50s. In speculation-prone zones in Seoul, the subscription of apartments with a floor space of 85m² or smaller is wholly based on a merit system. The system is also applied to 50 percent of houses with a floor space over 85m². This means that the middle-aged have a higher likelihood to win the subscription as they usually have many dependents and a longer period of owning no home.
"For this complex, the loan will not be provided for the intermediate payment. As people should apply for subscription with their own capital worth 70 percent of the parcel price, they are required to have around 700 million won in cash even if for small-sized units," said Park Yun-seo, head of the sales office at Hyundai E&C.
Ho-Sung Cheon thousand@donga.com