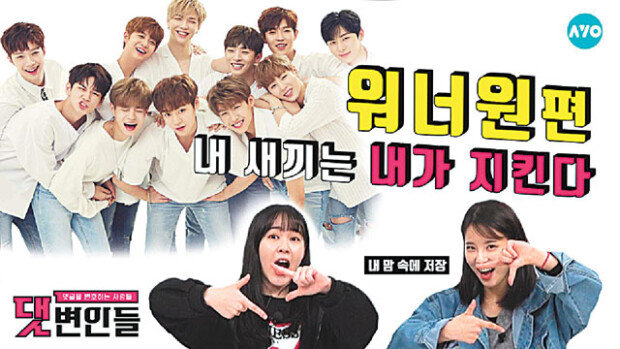 Channel A's digital contents channel "AYO" will start its service through major video platforms. AYO will promote the slogan "Watch, Play, AYO" while providing video contents that "1030 generation" can enjoy. Centered on digital original contents, which are focused on novel contents and form, Channel A plans to offer spin off contents by recreating its previous programs and premium lectures of the Dong-A Business Review ("DBR"), which is South Korea's best business magazine. Viewers can watch AYO through Channel A's homepage (www.ichannela.com), YouTube, Facebook, Naver, Kakao and Dailymotion.
The first content is "commentpresentatives," which is a program where idol group fans make a guest appearance and rebuts malignant comments towards idols. Fans of Korean boy band Wanna One made an appearance on the first episode and actively represented Wanna One as they went through malignant comments on the boy group's appearance and talents. Images of fans who are trying to guard their favorite stars such as BTS, TVXQ! and TWICE will be released one by one every Friday.
Channel A's popular programs will also be recreated in digital contents. "Heat Signal," which opened the way for a new genre of deducting love lines, "I am a Body God," a health program, and "I Will Give You the Universe," an entertainment show for a music journey that starts on Wednesday, will greet viewers in a way quite different from other television broadcast shows.
AYO will continuously introduce original forms and contents such as an integration of hip-hop and unplugged and story of the world from the views of children.
Case study lectures created by DBR is also available. DBR's journalists with master or doctorate degrees, business department professors and consultants provide high-quality lectures on latest trends and business theories. These lectures are popular in famous MBA schools and conglomerates for educational purposes. 
Hyo-Lim Son aryssong@donga.com