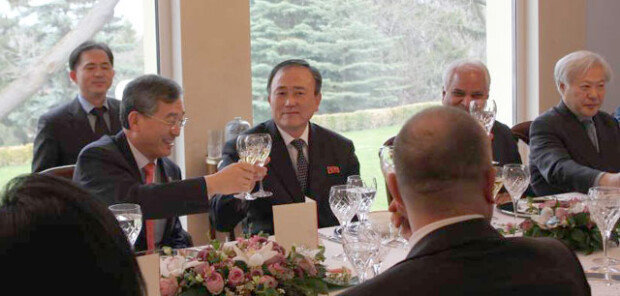 North Korean ambassadors to European countries stopped most of their external activities as the European Union imposed strong sanctions and EU-North Korea tension rose following Pyongyang's series of nuclear tests and missile provocations. They have drastically changed their attitude since early this year, actively participating in external events and even taking photos and having conversations with South Korean envoys. Such changes have become even more strikingly evident since the PyeongChang Winter Olympics and the subsequent mood for inter-Korean and North Korea-U.S. dialogue.
Chung Beom-ku, the South Korean ambassador to Germany, came across Pak Nam Yong, the North Korean envoy, at a party celebrating the 90th birthday of former East German Prime Minister Hans Modrow at the Left Party in Berlin on January 31. Many other diplomats were surprised to find Pak showing up at the party. When he posed for a photo with the South Korean envoy, even the Chinese ambassador was surprised by the rare scene.
Ambassador Lee Byung-hyun, the representative of the Korean Mission to UNESCO in Paris, France, has recently met with the North Korean envoy on three occasions so far this year. South Korean ambassadors to Poland and Austria have also came across their North Korean counterparts at the New Year's reception and greetings event early this year. The North Korean diplomats are said to have been actively engaging with other envoys with brighter faces.
"I was surprised to see that the North Korean ambassador had detailed knowledge about South Korea's domestic political news," a South Korean ambassador said, requesting anonymity. Another South Korean envoy said, "It seems that the North has changed the direction of its diplomatic policy toward winning international recognition as a normal state since North Korean leader Kim Jong Un's New Year address. While Europe is imposing strong sanctions on North Korea, it also has strong belief in the importance of dialogue with Pyongyang. Therefore, there is plenty of space in Europe for North Korea's activities in Europe."
One North Korean ambassador reportedly told his South Korean counterpart that the North had no intention of fighting against the South. "Although many people think that we will benefit more from North Korea-U.S. talks, it could be that the U.S. gains more," the diplomat was quoted as saying.
Jung-Min Dong ditto@donga.com