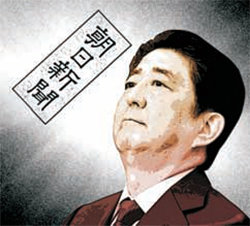 Japanese Prime Minister Shinzo Abe is engulfed in a school scandal that has recently resurfaced. It has been revealed that the Japanese Finance Ministry has tampered with 14 official documents to cover the scandals involving Abe and his wife. Ahead of the key leadership vote in September, the ruling Liberal Democratic Party altered its own regulations to allow the party leader to serve three terms, three years per term. However, it looks like the issue will not be easily settled even within Abe's own party, while Abe's competitors have begun to attack.
The school scandal first surfaced in February last year. Moritomo Gakuen, a private educational institute, seeking to build an elementary school named after Abe, used connections to obtain a cheap price for state land. Circumstantial evidence that Abe's wife, Akie, served as honorary principal and key members of the state had wielded influence has emerged. Even news of the Finance Ministry's tampering has been disclosed. The educational group's comment, as saying that Akie recommended the primary school project "move forward because it is a good plot of land," was removed from the document. Tampering of the documents, rather than the scandal itself, came as a shock, shaking the foundation of the government.
The scandal can be described as a dark shadow of the Abe administration. It shows how power without containment can grow corrupt. The school scandal pulled down Abe's approval rating to around 20 percent last year. Eventually Abe chose to dissolve the lower house and the ruling party won the general elections in October amid escalating North Korea's provocations. Abe's success was mainly due to the absence of a competitive alternative. As Abe's position cemented, rumors of the scandal grew weaker.
The scandal has been recently reignited by the Asahi Shimbun. The newspaper spent a year investigating the scandal and published a special report on the Finance Ministry's document tampering on March 2. After the story went public, a former official with the Finance Ministry said that the battle would be fatal, destroying either the Abe administration or the Asahi. But the victory went to Asahi, when the Finance Ministry acknowledged manipulation. Asahi's report, disclosing the cronyism that could have gone unnoticed under the Abe administration as well as lies of those in power, remind us the reason why the press exists.
Su-Young Hong gaea@donga.com