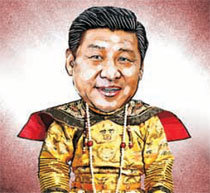 On July 10, 1951, the first truce talk for the Korean War was held in Kaesong, North Korea, a place stubbornly insisted by China. The senior UN Forces representative was shocked as he entered the meeting hall as China had prepared a low chair for the UN Forces representative and a chair that was 30 centimeters higher for China. The senior representative quickly changed his seat but the photograph was already taken and China proclaimed it to be their "victory." For communists, even chair was a strategy of negotiation.
The seating arrangement during the meeting between Chinese President Xi Jinping and South Korea's National Security Advisor Chung Eui-Yong on Monday inflicted another "diplomatic discourtesy." President Xi sat at the head of the table as if he presided over the meeting and arranged the rest of the seats so that Chung and his companies and Chinese attendees would sit facing one another. It was an unprecedented meeting as it was held during the two most important political events – the National People's Congress and Chinese People's Political Consultative Conference. Yet, China still appears to be stuck in the 1950s set of mind.
U.S. President Donald Trump sat Thursday side by side with Chung, whom he met at the Oval Office in the White House. With the two seated in the middle, the staff of Mr. Trump's administration sat close by, listening carefully to their conversation. On the contrary, Japanese Prime Minister Shinzo Abe offered Tuesday a golden flower covered chair, which was identical to his to South Korea's National Intelligence Service chief Suh Hoon. Abe caused controversy for using a fancy and higher chair by himself. Hospitality reflects complicated inside stories of various countries but protocol is so important as to be referred to as the "flower of diplomacy."
China has opened the "Era of Emperor Xi" as it abolished the provision on limitation of the presidential term on Sunday. China is also focusing on international promotions that praises the achievements "Xi Jinping's China" as accomplished since he came into office in 2013. Academics in China are even claiming that China emerged as the "world's greatest power" that surpasses the United States. Xi used to sit side by side during his first term in office when he greeted special envoys sent by the South Korean president. Xi's change in greeting others seems to reflect China's changed status.
Su-Young Hong gaea@donga.com