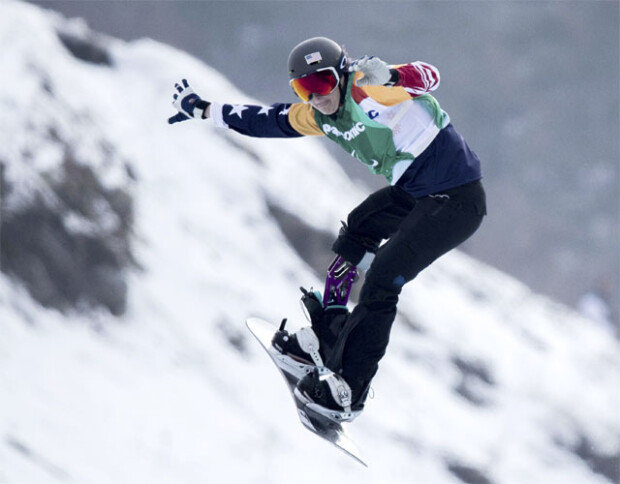 On Monday, behind the standing area of snowboard cross stadium at the 2018 PyeongChang Paralympics was a child snowboarding with PyeongChang's mascot Bandabi sticker on her cheek. She was Lilah Huckaby, daughter of Brenna Huckaby (22, United States). "She's in a magazine cover with her mother," said her grandmother as she played with Lilah, and took out and showed the magazine. Lilah is turning two in May, and learned to snowboard when she was eight-month old at a snowboard match of her mother. Now she is adept at snowboarding.
Brenna Huckaby won her first gold medal in snowboard cross LL1 (Lower Limb Impairment) in her Paralympic debut. "[I am] pushing through trying times to show [Lilah] that she can do anything that she wants," said the Paralympic snowboarder, holding her daughter in her arms.
She rarely smiled eight years ago. On Nov. 18, 2010, Huckaby was crying in despair. She was diagnosed with cancer at the age of 14, and went through nine months of cancer treatment. But her cancer only aggravated and took most her right leg when her doctor decided to amputate a limb to give a better life to her. A girl whose dream was to be a gymnast could not believe that amputation would give her a better life. Having two legs seemed like a basic qualification to be an athlete.
Huckaby did not smile for a while after the surgery. But she became happy again when she received her first prosthetic leg and wrote, "Please return it to me if you find this." "Things happen in life and can get you down, but it's how you respond to it," said Huckaby, adding that she does not miss her life before the surgery.
Last month, she made history as the first amputee to ever be featured in Sports Illustrated Swimsuit. She jumped with joy after hearing that she was going to be a swimsuit model for the magazine.
She is heading into Friday's banked slalom races (a race snowboarders down banked courses around gates), aiming for double gold medals.
Bo-Mi Im bom@donga.com