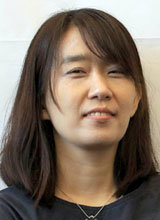 South Korean novelist Han Kang, who won the Man Booker International Prize in 2016 for "The Vegetarian," has been longlisted again for the British literary award of world authority with her latest novel "The White Book" in two years. It was translated by Deborah Smith, who was a joint recipient of the Man Booker award for her translation of "The Vegetarian."
Thirteen works were nominated including Han Kang's "The White Book" as candidates for the International Prize, according to the announcement on the organizer's website on Monday (British local time).
"The White Book," which was published in 2016 in Korea, received good response after it was released in Britain last year. The book is a collection of 65 short writings featuring the 47-year-old author's meditations on white objects in the world such as swaddling clothes, clothes of a newborn baby, the moon, rice and winding sheets. The winner of the Man Booker Prize will be announced on May 22.
Hyo-Lim Son aryssong@donga.com