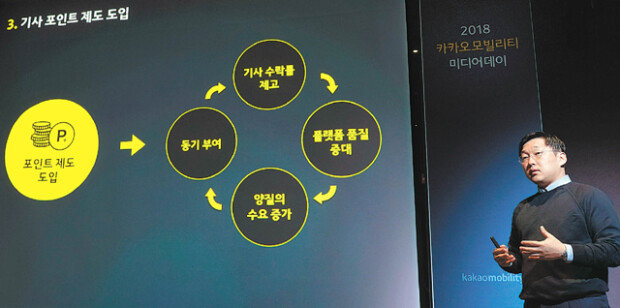 Kakao T, taxi-hailing mobile app, will launch paid options that allow users to grab taxi faster by paying an additional fee within next month.
Jung Joo-hwan, CEO of Kakao Mobility, which operates Kakao T, Kakao Navi and Kakao Map, said Tuesday at a press conference that two paid optionsㅡ"immediate dispatch" and "priority call"ㅡ will be added to its service.
Immediate dispatch is a function that users pay an extra fee to call up a taxi nearby regardless of the consent of the driver. The fee will be higher than the current fee for a calling up a cab (1,000 won for daytime, 2,000 won for nighttime). Priority call uses artificial intelligence to find a driver who is most likely to accept the call, taking into account factors, such as vacant time and traffic conditions.
Their plan is to maintain the fixed price system in the early stage and slowly switch to flexible pricing system like Uber and Lyft.
This is a revenue model, which the company charges its users for using its platform. According to Kakao T, it is not against the relevant law that bans charging additional fees on top of the regular taxi fare. "We were told from the Ministry of Land, Infrastructure and Transport that our business model is not against the law," Jung said.
The additional fee charged to users, however, will not be directly paid to drivers. Kakao T has introduced a point system, which provides drivers with points that can later be converted into cash based on their driving record and customer feedback. In order to prevent drivers from rejecting the current unpaid calls, the company is planning to give incentive to drivers for accepting unpaid calls.
Jung has unveiled the company's blueprint for entry into the global market. Kakao T is planning to sign a partnership with Japan Taxi in the second half of this year to allow users from the two countries to hail a cab in both countries without having to install an additional app. Korean passengers visiting Japan and Japanese passengers visiting Korea can call up a taxi conveniently by using Kakao T and Japan Taxi, respectively.
yes@donga.com