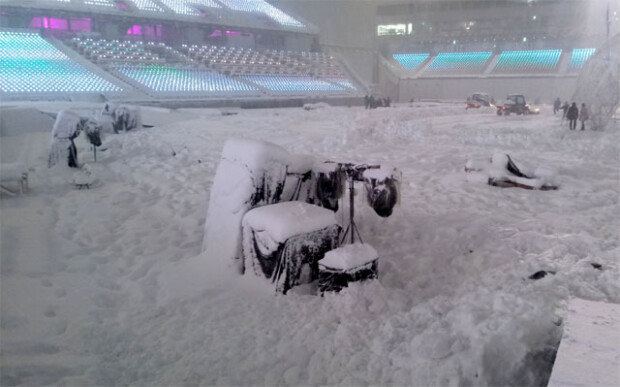 A day before the opening ceremony of the PyeongChang 2018 Winter Paralympics, Lee Moon-tae, Executive Creative Director of the ceremonies, was shoveling the snow instead of having a final rehearsal. Since Lee arrived in PyeongChang on March 1, about one meter of snow had fallen until March 9, the day of the opening ceremony. Due to the snow, a lighting director could not even test around 1,800 lights before the very day of the opening ceremony.
"Everyone in the organizing committee helped us clean the snow, so much so that we almost felt sorry for them," said Lee. "Even the committee's president himself helped clearing away snow. I believe that effort led to the success of the opening ceremony."  
Because of continuing snowfall in the region, which prompted a heavy snowfall advisory, all members of the organizing committee, from top to bottom, as well as volunteers and soldiers had to roll up their sleeves.
Thankfully, the opening ceremony was a great success despite the snow, leaving a lasting impression on not only the audience of 21,000 people but also viewers around the world.
South Korea's Choi Bo-kyu and North Korea's Ma Yoo-chul, both of who will compete in Nordic Ski for the Disabled, carried the Paralympic torch together and passed it on to Ice Hockey's Han Min-soo. Kim Eun-jung, skip of South Korea's Olympic women's curling team, and Seo Soon-suk, captain of the wheelchair curling team, were next to carry the torch, drawing attention and spreading the message of "coexistence of the disabled and the non-disabled."
Bo-Mi Im bom@donga.com