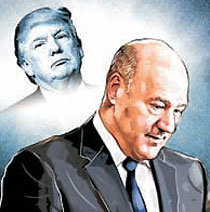 Concerns are growing over the resignation of White House economic adviser Gary Cohn, who stood opposed to the Trump administration's proposed higher tariff on imported steel. It appears that Cohn was actually dismissed from the White House unlike the announcement that he resigned of his own will. Republican Senator John Thune, who holds the third-ranking leadership position among the Senate Republicans, said, "He's a voice of reason on economic issues and a big picture." Cohn, who tried to block a U.S. exit from NAFTA the Trans-Pacific Partnership (TPP), was viewed as one of the few free-trade advocates in the White House.
The 56-year-old, who is the grandson of a poor Polish immigrant, earned a bachelor's degree at the American University's Kogod School of Business and worked for Goldman Sachs for 26 years. Trump's appointment of Cohn as the director of the National Economic Council in December 2016 sparked strong opposition as Cohn was a representative figure in the financial sector who earned a combined salary and bonus of 7.3 million dollars at Goldman Sachs in 2016. One of the Donald Trump's campaign pledges was regulation on the financial sector.
Gary Cohn's departure from the White House will likely strengthen U.S. protectionism. White House National Trade Council Director Peter Navarro, who will likely be Trump's most powerful trade advisor, refutes the mainstream economics that says "Free trade is beneficial to U.S. economy." He is the author of the book "Death by China," which criticizes the emergence of China. There is a high chance that he will aggravate the trade war between the United States and China.
Advocates of free trade around the world are concerned that there is no one left to talk to in the White House. Liu He, Chinese President Xi Jinping's economic adviser, found it difficult to talk to the White House when President Trump announced higher tariffs on imported steel. China is failing to find a proper communication partner in the White House, The South China Morning Post reported. South Korea, which is renegotiating the free trade agreement with the United States under the Trump administration's trade pressure, also needs to have a communication line in the White House. But currently South Korea has no one to turn to. South Korean Trade Minister Kim Hyun-chong alone is doing what he can to persuade the U.S. government.