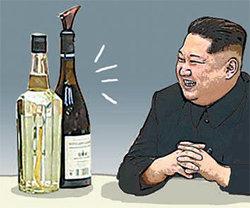 Nine bottles of wine were placed on top of a table at the farewell luncheon for the second inter-Korean summit meeting held at Baekhwawon in Pyongyang on October 4, 2007. When National Defense Committee Chairman Kim Jong Il pointed a bottle with his index finger, the participants' glasses were filled with wine. The press, who visited North Korea including me, held our breaths wondering what kind of wine it was.
It was Côte de Nuits Villages 2002 of Michel Picard, a newborn winery of only 60 years in northern Côte de Nuits of Bourgogne, France. Back then, its market price was 40,000 won. The wine was incomparable to Château Latour 1993, a deluxe Bordeaux wine used for the first inter-Korean summit meeting in 2000. The fate of Michel Picard, however, changed completely as it was introduced as "Kim Jong Il wine." It signed a contract with South Korea at the end of 2007 followed by the United States, Japan and Germany. It was also designated as a reputable winery at a program that visits cultural heritages in France.
Michel Picard formed a relation with North Korea in 1992. An official from North Korea's embassy in Paris came over on a helicopter and purchased 12-bottle wine boxes of 15 different wines, saying that it was for VIPs, and has been ordering wine every one to two years from the lowest grade to the highest ones. North Korea has been airlifting French wines even during the "North Korean famine" in the mid-1990s, when millions of people starved to death. Like father, like son, Kim Jong Un also provided wines during the dinner with the special envoy to N. Korea on Monday. It was Michel Picard's wine, the wine selected by his father. Notwithstanding the wine embargo imposed on North Korea as additional sanctions by the European Union last November in response to North Korea's nuclear and missile provocations, no change was to be seen in Kim Jong Un's table.
Ginseng liquor, made with an entire fresh ginseng, was also added to the dinner for South Korea's special envoys to the North. It was made to entertain distinguished guests. Blueberry liquor, made with blueberries grown in Baekdu Mountain, and Ryongsong beer and Kaoliang liquor along with wine, were provided at the first and second summit meetings, respectively. It has been said that Kim Jong Un drank quite a lot of alcohol even though he was obese. Taking pleasure in alcohol also must be like father, like son.
Su-Jin Cho jin0619@donga.com