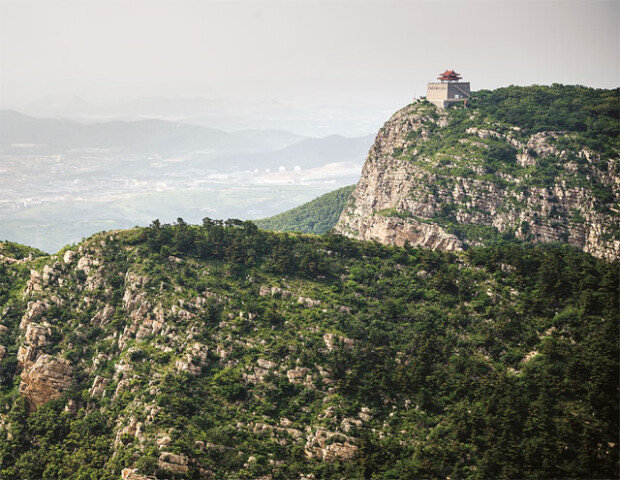 "One of the old names of Goguryeo was 'Guru,' which meant a 'castle,'" said Won Jong-seon, head of China Office at HiKorea and a director of the Dalian Korean International School. "This is why mountain castles cannot be left out in explaining Goguryeo's culture, and also why I became infatuated with the castles, the best place to feel the spirit of the vast empire of Goguryeo."
He was in utter love with the mountain castles of the old Korean kingdom, Goguryeo. For more than three years, he visited all of the 73 castles of Goguryeo located in Liaodong, China, and recorded them in photographs and writing. Interestingly enough, this is not a story of a historian. Won, who recently published a book titled "Going to Liaodong to find Goguryeo's mountain castles," met with this reporter for an interview at the Dong-A Media Center in central Seoul.
Won moved to Hangzhou for the business purpose of trading with Chinese partners in 2001. It was when he went to see the Beijing-Hangzhou Grand Canal that he began his own journey to explore the old Goguryeo's mountain castles.
The book runs through the entire history of Goguryeo from the beginning to end by presenting vivid photographs and maps of the old kingdom's castles such as Wunü Shan, the birthplace of Goguryeo built by Jumong, the founding monarch of the kingdom; Liaodong-castle, which protected people against the invasion of the Sui Dynasty; and Ansi-castle, where the soldiers of Goguryeo renewed their strong determination to continue their fight even after the Tang Dynasty took Goguryeo in 668.
Also noteworthy is that Won found out 13 additional castles of Goguryeo that had been unknown, including Guryeon-castle and Bokjugo-castle. "Won's study would serve as a milestone that gives us clues in restoring Korea's ancient history," said Korean philosopher Kim Young-oak who wrote a recommendation for the book.
Won-Mo Yu onemore@donga.com