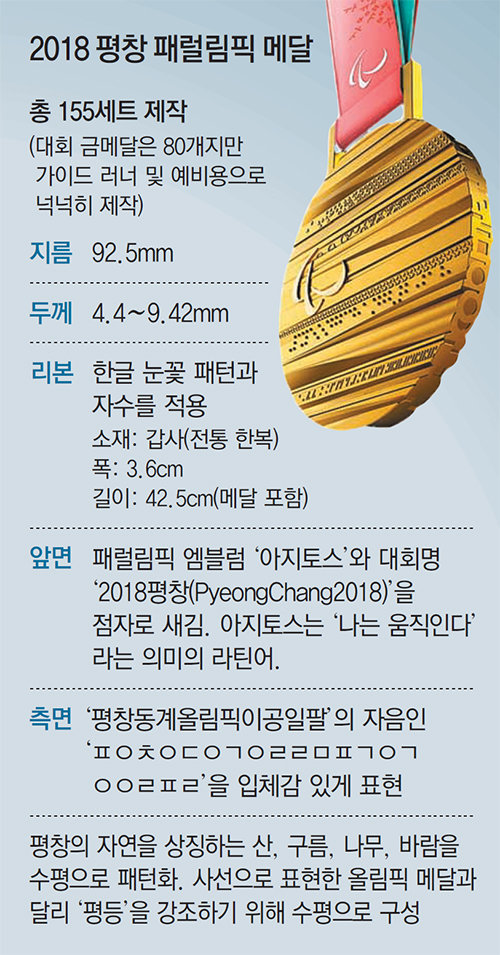 The medals used for the 2018 PyeongChang Winter Olympic Games earned a favorable public opinion for their stylish design and various meanings behind the aesthetic.
What about the medals of the 2018 PyeongChang Paralympic Winter Games, which will kick off this Friday? Just like the main Olympic Games, the Paralympic medals express the beauty of Korea inspired by the nature of host city Pyeongchang and the Korean alphabet. Both Olympic and Paralympic medals have the Korean consonants of "Pyeongchang Winter Olympics 2018" embossed around the side.
But there are a few characteristics that are unique to Paralympic medals. The most salient feature is the use of braille for the visually challenged participants. In compliance with the Paralympic regulations, the title of the competition "PyeongChang2018" is engraved in braille on the front side of the medals. The Paralympic medals also feature Agitos, the emblem of the International Paralympic Committee (IPC), instead of the typical Olympic rings, the symbol of the International Olympic Committee (IOC). Consisting of three colored swishes encircling a center point, agitos means "I move" in Latin, which symbolizes the passion and grit of athletes competing in the Paralympic games.
On the front side, the mountains, clouds, trees and the wind of Pyeongchang are materialized into patterns for tactile experience. Unlike the oblique lines in Olympic medals used as a symbol of Pyeongchang's nature, the Paralympic medals adopted horizontal patterns to stress the virtue of equality. On the back side are written the specific names of sports events in addition to the emblem and agitos.
Athletes in the PyeongChang Paralympic Games will compete for 80 medals in six sports events. However, a total of 155 sets of medals have been prepared for guide runners and spare use.
Heon-Jae Lee uni@donga.com