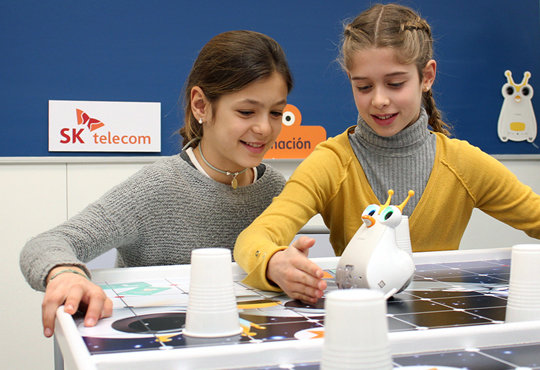 It was Wednesday (local time) at La Salle Bonanova Elementary School in downtown Barcelona, Spain. Mafalda Calbo (age 11) could not take her eyes off Albert, an owl-eyed robot that serves as an education tool for computer coding. Albert's eyes changed color every time a command was entered by card and moved in directions in accordance with students' programming, even delivering a ball to a desired destination. The class was provided as a part of Smart Robot Coding School, a children's software development education program designed by SK Telecom.
La Salle Bonanova Elementary School introduced the Smart Robot Program as a regular subject in its curriculum, said the Korean telecommunication company said Wednesday. SK Telecom will provide Albert and Spanish content, while Telefonica, Spain's No. 1 telecom service provider, will offer coding professionals. The Global System for Mobile Communications Association (GSMA) has also agreed to leverage Mobile World Congress programs to promote schools piloting coding programs.
Children's coding programs is becoming increasingly important in accordance with the UN's Leave No One Behind Initiative, which is being discussed under the UN's Sustainable Development Goals. In Korea, coding programs will be introduced as regular curriculum in middle schools this year, and elementary schools next year.
Since its launch in February 2014, SK Telecom's Smart Robot Coding School program has been adopted in about 250 elementary schools across 20 countries around the world, and more than 20,000 units of Albert have been exported. During the MWC last year, SK Telecom brought its T.um Mobile, its ICT experience center, from Korea to promote its coding program.
Dong-Jin Shin shine@donga.com