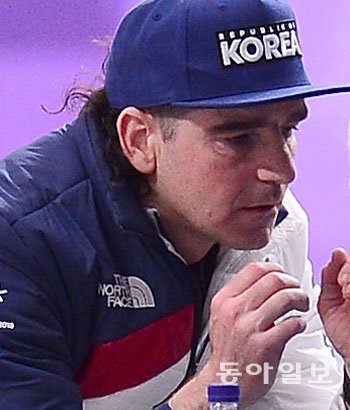 Bob de Jong, the Netherlands-born coach for South Korean speed skating at the PyeongChang Winter Olympics, is expected to return to his country on Friday, after his contract expires.
De Yong, who won all medals in men's 10,000-meter races alone in Winter Olympic Games, including a gold in the 2006 Torino Games, joined the South Korean national team in May last year as an assistant coach in order to work mostly with long-distance skaters for the 1,500-meter, 5,000-meter and 10,000-meter individual events. As a result, Kim Min-seok, 19, became the first Asian skater to win a gold medal in men's 1,500-meter race. The Dutch coach also contributed to the South Korean speed skating team's winning seven Olympic medals ever.
De Yong wrote on his blog on Tuesday that he had a "fantastic adventure" during the PyeongChang Winter Olympics and that South Korean athletes' bronze medals felt as good as gold. He also said he was happy to conclude the Winter Olympics with Lee Seung-hoon's gold medal in the men`s mass start. Expressing his "solid bond" with South Korean skaters and congratulating on their successes, he said he was wondering what he would do in the future and what the Korean Skating Union would do after the Olympics, even though the Korean skaters had asked him to say.
De Yong, who wrote eight blog posts during the Olympics, also expressed his admiration of the closing ceremony and gratitude for volunteer workers. An official at the Korean Skating Union said it would seek to renew the contract with the Dutch coach if a majority of the South Korean skaters want.
Hong-Gu Kang windup@donga.com