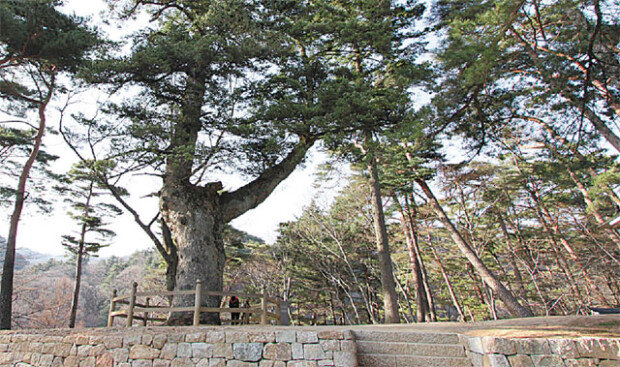 Fir trees, which are in the family of Pinaceae, are also called "jeot" trees in Korean as their stems exude milky juice. In Hunmongjahoe written by Choi Se-jin in 1527 and in Mulmyeonggo written by Ryu Hee around 1820, fir trees are expressed as the Chinese character "hoe (檜)." In Hoeyeonseowon in Seongju, North Gyeongsang Province, fir trees are expressed as Hoe as well. Hoeyeonseowon is a place where Hangan Jeong Gu (1543-1620), a civil servant in the mid-Joseon Dynasty, is enshrined. It is very rare, as in the case of Hoeyeonseowon, for fir trees to be used as a symbol of Neo-Confucianism. In Gimcheon, North Gyeongsang Province, two imposing fir trees stand in front of Seokgokseodang, where Jeong used to teach his students.
Fir trees are very important, along with zelkova trees, in understanding our traditional culture. From old times, fir trees have been used as construction materials, especially for pillars, due to their great quality. Sudarajang, where the wooden printing blocks of Palman Daejanggyeong ("Eighty-Thousand Tripiṭaka") are stored, Tongdo Temple in Yangsan, South Gyeongsang Province, and the pillars of Muwi Temple are all made of fir trees. You can find many fir trees across the country but more often in temples. The case in point is the fir tree forest at the entrance of Woljeong Temple on Mt. Odae in Gangwon Province. The valley beside the forest makes it even more beautiful. I cannot forget the time when I walked alone the fir tree forest early in the morning, crunching through the snow in an early spring. The fir tree forest at the entrance of the Naeso Temple in Buan, South Jeolla Province is as beautiful as the floral doors on the main temple of Naeso Temple.
In Korea, fir trees, along with pine, zelkova and hackberry trees, are believed to the sacred trees, where gods stay inside them. A legend has it that "Hakssadae fir trees (natural monument No. 541)" at Haein Temple on Mt. Gaya were planted by Choi Chi-won in the Silla Dynasty. This is related to the legend that Choi became a Taoist hermit on Mt. Gaya. The legend of fir trees that is related to Choi not only shows the numinous aspect of the trees but also demonstrates the ecology of trees and human. In particular, Hakssadae fir trees are important in understanding the existence of Choi Chi-won as they are the best compliment about Choi from future generations. There is another fir tree in front of a village school near Haein Temple that honors Choi Chi-won. As shown from these examples, the life of Choi Chi-won has been passing down to future generations with fir trees. One should value his or her own story better than anything else, as one's own story is the most beautiful history.