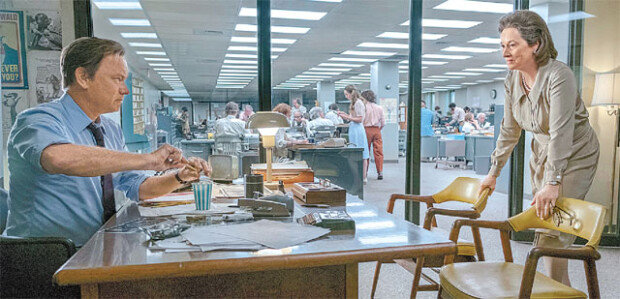 "The Post" starts with a humiliating day of a daily newspaper that failed to report a scoop. It is pitiful to see scenes in the move in which a reporter instructs an intern reporter to spy on a rival newspaper due to anxiety over the latter's possible reporting of a major scoop, and purchases a newspaper on the street early in the morning upon learning about the rival daily's scoop. The movie is thus unfolding the story in a format completely different from that in other movies that deal with stories about American media's scoops such as "Spotlight" that were mostly centered around a media outlet that breaks news.
Lines, including "If we don't report, we lose and the public will lose" and "The media should serve the public, not the ruler" that are narrated throughout the running time, also give viewers some food for thought. It is due to impressive acting by Tom Hanks and Meryl Streep that a message such as the importance of free press that would easily be considered too natural does not sounds trite in the movie.
The fact the movie is directed by Steven Spielberg also adds to its weight. Then why on earth the famed director, who has made a string of movies about historical incidents and figures such as "Schindler's List" addressing painful history in the Second World War and "Saving Private Ryan," is bringing the role of the media to the public's attention this time around? He says through the movie he wished to demonstrate how free reporting, the fundamental principle of the press, can protect democracy. The movie will hit the box office in Korea on Wednesday.
Sun-Hee Jang sun10@donga.com