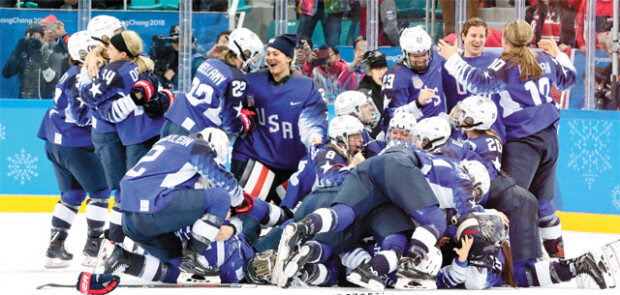 The U.S. women's ice hockey team has won its first Olympic gold medal in 20 years. Team U.S. subdued Canada on Thursday by 3-2 (1-0, 0-2, 1-0, 1-0), after a grueling match that continued into a shootout, which took place at the Gangneung Hockey Center for the 2018 PyeongChang Winter Olympic Games. The U.S. women's ice hockey team claimed its first gold at the Nagano Winter Olympic Games in 1998, when female ice hockey was first included as Olympic sports.
Canada, a four-time consecutive Olympic champion since the 2002 Salt Lake City Winter Olympics, has failed its quest for a forth gold medal. The latest loss has also put an end to Canada's winning streaks in Olympic Games, which had gone on for 24 games.
Canada and the United States are the two absolute heavyweights in female ice hockey. The two countries have jockeyed for the world's top ranking since 2007, and the United States was ranked the first, and Canada the second last year. The United States has been defeated by Canada in their encounters at Olympic Games, but it was the United States that has prevailed at world championships. In fact, the United States has won seven world championships out of eight competitions from 2008 to 2017. And this time, the United States has finally outperformed its rival at an Olympic final.
The final match between the U.S. and Canadian women's ice hockey teams was considered as one of the biggest matches in Pyeongchang. The ice rink was packed with spectators from the two countries rooting for their team. The game was as fierce as expected. At 19 minutes 34 seconds, Team U.S. netted a first-period opener after one of the Canadian players was sidelined. It was in the second minute of the second period that Team Canada scored an equalizer. At 6 minutes 55 seconds, Canada scored one more and turned the tide of the game. Signs of defeat were palpable, but the United States equalized the game again in a counterattack at 13 minutes and 39 seconds. The 20 minutes of extra time failed to determine a winner.
In the shootout, the game was tied 2-2 until the fifth shooters, but in the sixths, the winner was decided. Monique Lamoureux-Morando of the United States, who went first, found the net, but Meghan Agosta, Canada's sixth shooter, failed her shot. When the final buzzer rang, all the players of Team U.S. poured onto the rink and exchanged hugs, celebrating their victory.
Dong-Wook Kim creating@donga.com