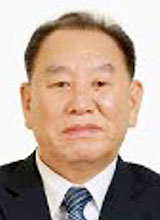 South Korean President Moon Jae-in will meet with Kim Yong Chol, a vice chairman of the ruling Workers' Party of Korea (WPK) and the head of the United Front Department, who is believed to be the mastermind of the sinking of the Cheonan warship, at the closing ceremony of the PyeongChang Winter Olympics. On Friday, President Moon will meet with President Donald Trump's adviser Ivanka Trump, who will visit South Korea for three days to deliver Trump's message. The three countries are expected to pit against one another over who will hold the "steering wheel" on the issues surrounding the Korean Peninsula.
The South Korean Ministry of Unification said Thursday that North Korea notified the South of its plan to send a high-level delegation, including Kim Yong Chol to the Winter Olympics closing ceremony. The eight-member North Korean delegation, including Kim Yong Chol and Ri Son Kwon, chairman of the Committee for the Peaceful Reunification of the Fatherland, will stay for two days from Sunday.
It is expected that President Moon will meet Kim Yong Chol on Monday following the closing ceremony to discuss the current situation on the Korean Peninsula, including dialogue between the two Koreas. Kim Yong Chol, however, is subject to independent sanctions by South Korea as well as the United States, which bans him from visiting South Korea in principle.
"The investigation into the sinking of Cheonan did not reveal who orchestrated the incident," said a Cheong Wa Dae official. "Although he is subject to sanctions, we will accept him as a member of the delegation. And we are under consultation with the United States on this matter."
weappon@donga.com · hic@donga.com