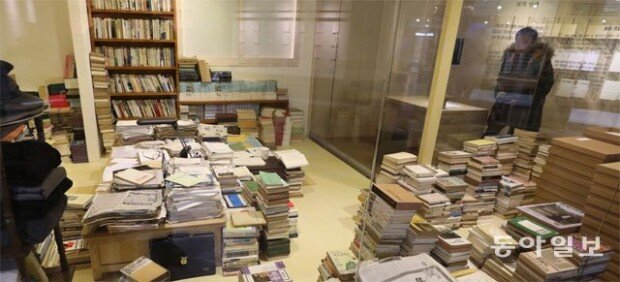 Movements are under way to erase the trace of poet Go Eun, who is accused of sexually harassing his junior writer. The Seoul city government decided to remove the "Room for Everyone," a space created in the Seoul Metropolitan Library for the poet. Furthermore, middle school and high school textbook publishers and writing staffs are discussing to remove the works of the 84-year-old poet.
"As much as the Room for Everyone was an area created as part of celebrating the 100th anniversary of the March First Movement, it is difficult to maintain the room with poet Go Eun involved in allegation of sexual harassment," said a Seoul city government official, implying to remove the room. "If removing the room right away is difficult, people are agreeing to install a screen fence for the time being." The Room for Everyone, which was created last November on the third floor of the Seoul Metropolitan Library, is a reproduction of a library in Anseong, Gyeonggi Province, where the poet wrote his sequence poems called "Maninbo."
In addition, the Ministry of Education made efforts to identify the status quo of textbooks that includes the works of the poet. As a result, eleven Korean language textbooks for middle and high school students included six works of the poet including five poems, "That Flower," "Some Happiness," "Women of Seonjaeri," "Farmhand Daegil" and "A Visit to the Ancestor's Grave," as well as one essay called "The Books of My Life." Elementary school textbook did not include any work by the poet.
"The right to revise lies within the publishers and the writing staff as the textbooks in questions are all authorized textbooks," said the Ministry of Education on that day. This is because authorized textbooks are made by individual publishers and writing staffs. Publishers and writing staff are currently contemplating on whether to remove the works of Go Eun from the textbooks.
"We have not come up with a decision. Nevertheless, as much as this issue is directly related to ethics, we are deliberating on this problem very seriously," said a professor who participated in creating a textbook. Any revisions to the textbooks, however, will only be possible in the second semester at the earliest as the presswork for textbooks for the first semester of this year has been completed already.
Ho-Kyeong Kim kimhk@donga.com · Dan-Bee Kim kubee08@donga.com