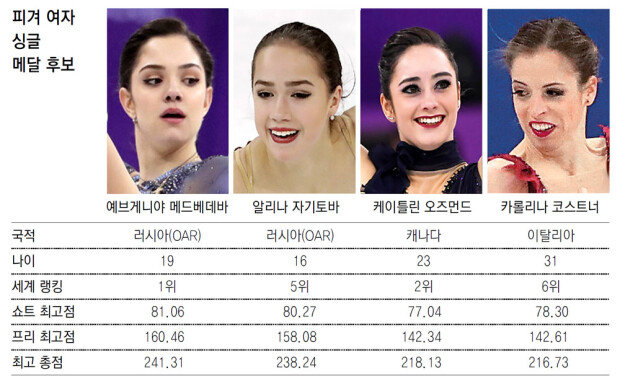 Women's figure skating competition at the PyeongChang Olympic Games will be held Wednesday at the Gangneung Ice Arena. Medal candidates have adapted themselves to the arena's ice through group competitions, which is why competition in the short program will get fiercer.
Russian athlete Evgenia Medvedeva (18) and Alina Zagitova (15) who are participating in the Olympic Games as an Olympic Athlete from Russia (OAR) are the favorite to claim gold in the women's singles. Both of them can do various triple jumps without making mistakes that nab them extra difficulty points. They will do seven triple jumps in total in the short program and free skating. Medvedeva and Zagitova are friends, but rivals on the ice.
Kaetlyn Osmond (22, Canada) who ranks second globally is another strong candidate. The key to success, for Osmond, who picks Kim Yu-na as one of her role models, is the first jump. She ranked third in women's singles short program where she made a mistake in her first jump. Osmond said she would try to think making a mistake does not spell the end of her performance.
Carolina Kostner (31, Italy) is a surprise rival. She won a bronze medal at the 2014 Sochi Winter Olympics. Due to physical limitations coming from her age, she is planning to land three triple jumps in the first half of her performance, which does not add up to many extra points. Even though her jumps are not as good as young skaters, her understanding of movements and acting is superior to younger athletes. "I thinks of all matches as a new experience, and will enjoy every moment on the ice until I retire," said the veteran skater. An insider of the International Skating Union said, "A miracle could happen if Kostner can maintain good pacing and utilize her strengths such as her understanding of musicality."
Yun-Cheol Jeong trigger@donga.com