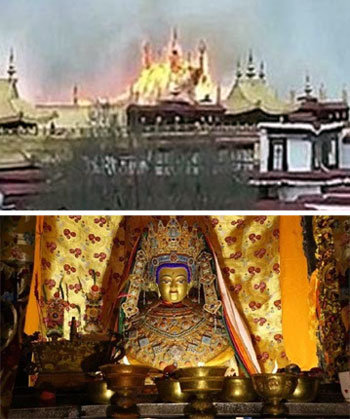 It has been two days since a large fire broke out at the Jokhang Temple, a monastery listed as a UNESCO World Heritage Site, in Lhasa, capital of southwest China's Tibet Autonomous Region, though the extent of the damage is not known. Chinese authorities appear to be censoring any details of the fire, cause, or aftermath.
Chinese state-run media reported a blaze hit the monastery in the Tibetan capital Lhasa on Saturday at 6:40 p.m. during Chunjie holidays, Chinese Lunar New Year and Spring Festival. Footage believed to have been posted online showed flames, which appear to have started in the monk's residence behind the temple, engulfing the roof of the temple. News of the gutted temple drew foreign media's attention as the Jokhang monastery is more than 1,300 years old and was registered as World Heritage by the UNESCO in 2000. "There had been a fire but it has been put out. No one was hurt and the surrounding area is now back to normal," reported Chinese state media, adding that the cause of fire is unclear.
Some footage and comments posted on Weibo, a Chinese social media platform, have been erased or removed. "Streets around the temple that were temporarily closed after the fire have been reopened to pilgrims," the Chinese official news agency Xinhua said Sunday. The Chinese state-controlled newspaper Tibet Daily News posted on its WeChat account an image of a statue of the Buddha located in the sacred temple, without mentioning the fire. The newspaper confirmed that the picture was taken at 11 a.m. Sunday, a day after the fire occurred.
China's bid to suppress news of the fire indicates the Jokhang temple's political significance. The sacred temple served as the heart of Tibetan independence demonstrations in 1989 and 2008 when protestors destroyed and overturned police vehicles near the temple. In 2015, Yu Zhengsheng, Chinese top political adviser, attended an event marking the 50th anniversary of the founding of the autonomous region of Tibet and visited the temple to meet with religious leaders.
Wan-Jun Yun zeitung@donga.com