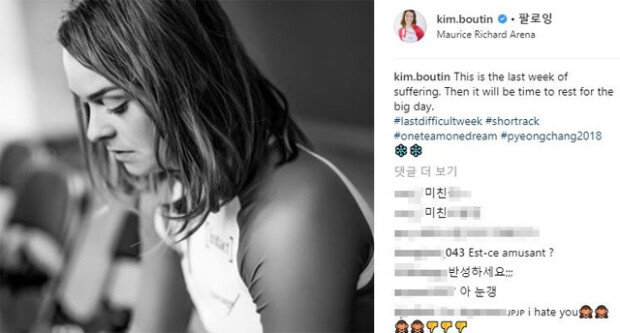 When news came that Chinese short-track skater Han Tianyu, who came first in the preliminary round, was disqualified after it was found that he made contact with Korean player Seo Yi-ra, Chinese web users went ballistic online. "Utterly disgusting. Worst refereeing ever," "Saw how nasty Koreans can be" and "You are the rubbish of the world" were some of the blatant denunciations that were poured out online.
Seo rose to second place after Han's disqualification and became a quarterfinalist, but some 8,000 comments, most of them insults like "Korea is a subordinate country of China," appeared on his Instagram. Some threatened that they would "watch out for Seo in 2022," referring to the year when the next Winter Olympics to be held in Beijing, China.
Meanwhile, Korean web users counter-posted comments in Chinese and English, saying, "How pathetic it is to condemn and insult to such extreme." But the depth of their character was soon revealed when the women's 500 meter short-track final round was held one and a half hours after Seo's preliminary round. Korean short-track skater Choi Min-jung finished second, but was disqualified after it was found that she had made contact with Canadian player Kim Boutin. Korean fans hurled online criticisms to Boutin.
Korean Internet users posted more than 10,000 comments on Boutin's Instagram, insulting her victory of winning the bronze medal after Choi's disqualification. "You don't deserve a medal," read one comment under Boutin's posting made on the previous day, when she shared her determination on the race. "Your hands are dirty," "Aren't you even ashamed of yourself, winning by foul play?" were some of the insults made by Korean fans.
djc@donga.com · 402@donga.com