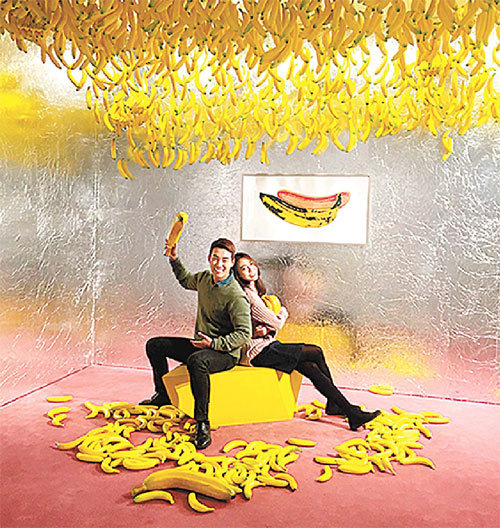 "Hi, Pop–Art: Off the Walls, Out on the Streets" exhibition, which features the works of the world's top pop artists, is promoting a special event to welcome the Chinese New Year. Those who visit the exhibition from Thursday to Sunday will receive a complementary ticket to appreciate the art works one more time as well as "Keith Harint" Hi, POP stickers. In addition, family visitors will receive a 30 percent discount on site.
The exhibition introduces 160 works of major pop artists such as Roy Lichtenstein, Andy Warhol, Robert Rauschenberg, Keith Haring and Robert Indiana. There is a special zone called "Print Factory," where visitors can pay a certain amount of money to experience the silk screen technique that was frequently used by Warhol and they can take home an eco-bag with a pop art image they printed themselves.
It is also worth noticing that Korean idol group Big Bang's singer Seungri and actor Yoo Jun-sang participated in making the audio guide and that there is a photo zone in each session of the exhibition where visitors can take photographs. The exhibition will run through April 15 at M Contemporary in southern Seoul.
Yang-Hwan Jung ray@donga.com