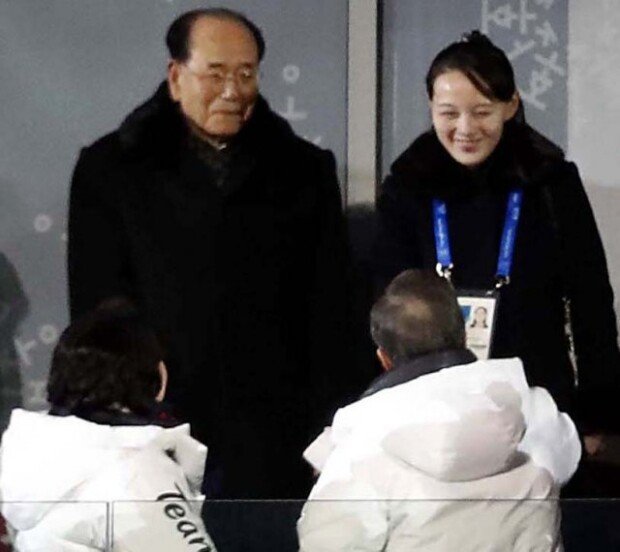 The highlight of a three-day visit to South Korea by a high-level North Korean delegation including Kim Yo Jong, the sister of North Korean leader Kim Jong Un, is its luncheon meeting with South Korean President Moon Jae-in on Saturday. Watchers say that Kim Jong Un, who has taken a "surprise move" by sending his own sibling to the South amid international sanctions and Washington's hard-line stance against Pyongyang, will make a drastic offer at the meeting with Moon.
The presidential office Cheong Wa Dae said Moon will have a luncheon meeting with the high-level North Korean delegation including Kim Yo Jong immediately after receiving them on Saturday. The venue will most likely be the presidential office. It is the first time that ranking officials from North Korea eat a meal at the presidential office since the inter-Korean prime ministerial talk during the Roh Moo-hyun administration in November 2007. The North's chief delegate is Kim Yong Nam, president of the Presidium of the Supreme People's Assembly and its nominal head of state, but attention is focusing on Kim Yo Jong who will also attend the luncheon.
Notably, since Kim Yo Jong is the most trusted aide to her brother, she will likely deliver Kim Jong Un's autograph letter or verbal message to President Moon. There is a high chance that the letter will convey Kim Jong Un's stance aimed at improving inter-Korean ties and easing tension on the Korean Peninsula. In his New Year's speech, Kim Jong Un called improvement of inter-Korean relations a "pressing call of this era."
Some watchers say that since Kim Jong Un has sent his own sister to the South, the North Korean leader could make an offer that could sway inter-Korean relations and geopolitical situation on the peninsula after the Pyeongchang Winter Olympics. "There is a good chance Kim Yo Jong will invite South Korean President Moon Jae-in to visit Pyongyang sometime within this year," CNN reported on the day, citing multiple diplomatic sources. "A potential date could be August 15, the day Korea was liberated from Japanese occupation in 1945." The North commemorates August 15 as the day of national liberation every year.
The Moon Jae-in administration, which sought to take the "driver's seat" on the Korean Peninsula by banking on restoration of inter-Korean ties after the Olympics only to face objection by Washington, may be able to find an important breakthrough through an inter-Korean summit. The Moon administration believes that it could persuade Washington at the pretext of securing Pyongyang's pledge to freeze its nuclear weapons in return for a proposed inter-Korean summit, and of finding an opportunity to hold denuclearization talks.
weappon@donga.com