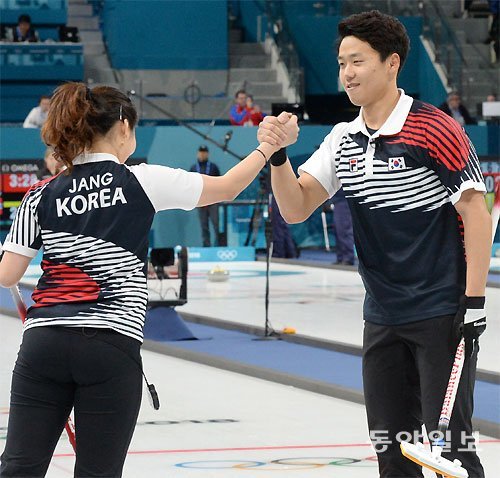 Sensing signs of victory, Lee Ki-jeong, a member of the South Korean curling mix-double team, stopped sweeping and shouted at his partner Jang Hye-ji. The red stone of the South Korean national team slid on and stopped near the Olympic emblem at the center of the house (target).
The veteran Finnish player, who debuted in 1992 when Lee Ki-jeong was not even born, offered handshaking to Lee and gave up on the rest of the game. The handshaking marked the moment of South Korean team's first victory in the 2018 PyeongChang Winter Olympic games.
On Thursday, South Korea's curling mix-double team presented South Korea the first win in the winter Olympics. The mix-double team of Jang Hye-ji and Lee Ki-jeong beat their Finnish counterparts by 9-4 in the preliminary round held at the Gangneung Curling Center. The Finnish team admitted defeat in the seventh end out of the eight. The victory was more meaningful as it was the first mix-double game, which was first introduced in Pyeongchang.
Due to the internal discord of the executive body, the support for the curling national team suffered constant controversy even after the Korea Curling Federation was designated as a controller of management in August last year. The expected support programs such as psychology consultations or noise simulation trainings were not available for the national team. In the process, Lee Ki-jeong said that even their best efforts would only lead to a local winter championship, but she had to suffer emotionally. The national team entered the training village in Taeneung, but their training was suspended because of the poor conditions of the ice at the Icheon Training Center.
However, Lee and Jang won the upper hand of the game, earning three points in the first end. They pressured the opponents though their position to attack first meant a disadvantage for earning massive points. The two players allowed a close race of 5-4 until the sixth end, and the South Korean team sought to decide the game in the seventh end, using the timeout, which is given out only once at a game.
Perhaps, it was because it was the first Olympic games to take place in South Korean in 30 years. The stadium was packed with spectators though the game took place early in the morning at 9:05 a.m. More than 2,000 seats were taken out of the 3,000 or so full capacity. "It is exciting to watch Olympic games that I only used to watch on TV. I hope that the players (of the mix-double team) will win the gold medal," said Moon Min-joon from Samcheok Middle School.
"I hope that the Olympic games will be an opportunity for spectators to get to know about curling and enjoy it," said Jang Hye-ji, with a broad smile on her face. "I am very glad to have won the first win for Team South Korea, and I hope that this energy will spread to the entire team."
Hong-Gu Kang windup@donga.com