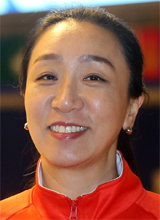 One of the most burdensome and hurtful words for short track athletes in South Korea is probably "no doubt." This writer also encountered situations when I had to stand in front of people throughout my athlete life and heard "How many medals are you going to win?" Of course, the situation is quite different now but it must be one of the most sensitive time for junior athletes. I sometimes want to tell them to "block their ears and eyes." The desperateness to win a medal lies within the athlete more than anyone else. I would like to support junior athletes who have prepared the Olympics for a long time to "survive the games."
I think the key day for the South Korean short track team during the PyeongChang Olympic Games is the final 1,500-meter event for male on Saturday. If someone wins the game on the first day, it will cause synergy within the team. Each male player is capable of winning this game.
Seo Yi-ra can skate "like crazy" when he is in good condition. He participated in World Junior Championships from an early age and made his way up gradually. Hwang Dae-heon skates fearlessly with stability even though he is a young skater. Lim Hyo-jun was famous for being a good skater ever since he was young. Just the fact that he continues to skate despite numerous injuries shows his strong mentality.
All international competitions witness new athletes making the unbelievable possible. Moreover, this time, all three athletes from South Korea are participating the Olympic Games for the first time. It is not surprising to expect good results. If the male team can gain momentum, winning the male-female relay is not impossible. This writer believes that now is the opportunity to go for winning a joint victory in 12 years since the 2006 Torino Olympics. There is not much to add about the female team. They are indeed the best of the best. Everyone is a candidate for winning a medal.
Hong-Gu Kang windup@donga.com