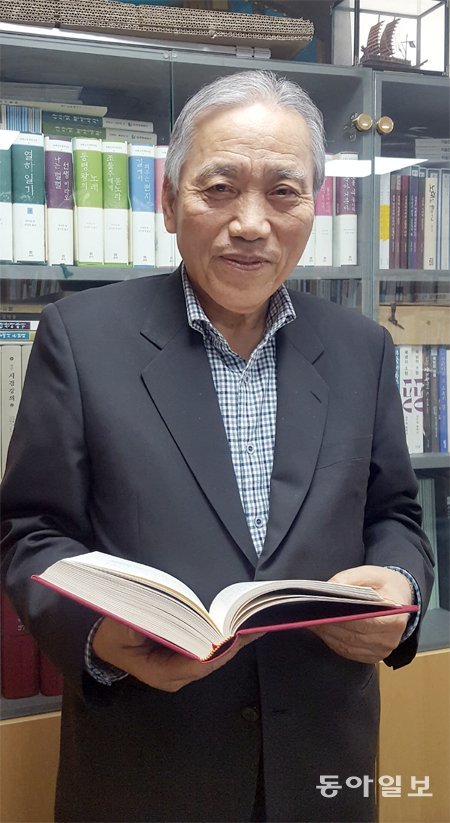 "Governors should report misconducts by their superiors to the superior office to correct the wrongs. This is defined by law in the Ming Dynasty. But in our country, governors do not dare to say a word to their superiors even if they commit illegal acts, putting the people in extreme distress."
The above writing is from Dasan Jeong Yak-yong quoted by Park Seok-mu, director of the Dasan Institute, in the 998th edition of his column, "Demystifying Dasan's writings." Park stressed in his column that Dasan had an insight even 200 years ago that misconducts by public officials could be corrected only when reporting of wrongdoing is protected.
This column, which has been sent via email to readers for the past 14 years, is about to celebrate its 1000th edition. The columns combined amount to 7,000 manuscript papers. When The Dong-A Ilbo recently met with him for an interview at his office in Seoul, he said, "I have been writing this column thinking that I will continue writing if there is only one reader left."
Dasan's arguments quoted aptly by Park in his column are sharp and perceptive. When former President Park Geun-hye kept the resigned prime minister in his post, after the sinking of the Sewol ferry, saying she could not find a proper replacement, he quoted Dasan (in "Tongsaekeui") as saying, "How could you look away from so many talent when I am afraid that searching for talent across the country would be not enough." When the Choi Soon-sil scandal hit the country, he accused the government of being "a government of eunuch," mentioning "Beomsang," one of the lessons taught by Dasan that one has to fight against his superior if he does something unethical.
His column has created a sensation. About 380,000 readers receive the column via email every week and over 10,000 open the email the day it was sent. It is hard to count how many more readers read the reprinted version of his column.
"Double standards? They are everywhere in our society. In Mokminsimseo, Dasan criticizes governors for shifting responsibility on subordinates," Park said. "Dasan emphasizes that what governors should do first right after being sent to his new post is listening to difficulties from village leaders and getting rid of deep-rooted ills in society. We should keep his words in mind."
This year marks the 200th anniversary of the completion of Mokminsimseo by Dasan. "After passing the state examination, Dasan writes a poem, which he promises himself to be fair, just, and righteous in managing state affairs," Park said. "If these values become the pillars of our society, we will be able to join the ranks of the advanced countries."
Jong-Yeob JO jjj@donga.com