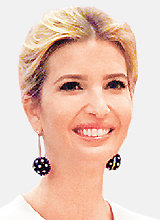 Ivanka Trump, the first daughter and White House senior adviser, will attend the closing ceremony of the 2018 PyeongChang Winter Olympics. With her name off the list of the high-level delegation led by U.S. Vice President Mike Pence, it has been not clear whether she will take part in the games until an official announcement was made Tuesday.
"Ivanka Trump's participation in a closing ceremony can be seen as certain unless any unseen, last-minute issues arise," said an official from the Trump administration in a phone call with The Dong-A Ilbo. "We are currently discussing with South Korea her visit and treatment." If Trump's visit is confirmed, the South Korean government will reportedly treat her in the same way heads of state are treated. Other members of the delegation accompanying Trump will also be announced in a few days.
"She was asked to head the presidential delegation for the closing ceremony by President Trump and the U.S. Olympic Committee," said CNN citing an White House official's remarks. CNN also reported that when Trump is in South Korea, she is expected to attend some of the sporting events that U.S. athletes are competing in. Some speculate that the first daughter will visit the Gangneung Hockey Center on Feb. 25 to watch the men's ice hockey final.
Meanwhile, South Korean presidential office Cheong Wa Dae has announced that it "has not been officially informed of Ivanka Trump's participation" and that "related consultations are underway since the call between President Moon Jae-in and President Trump on Jan. 4." The two leaders are understood to have talked about the participation of Ivanka Trump during a phone call last Friday. She also tweeted "Getting ready for the upcoming Winter Olympics!" last Tuesday. Her mother and the first wife of President Trump, Ivana Trump, is known for an avid amateur skier.
Jeong-Hun Park sunshade@donga.com