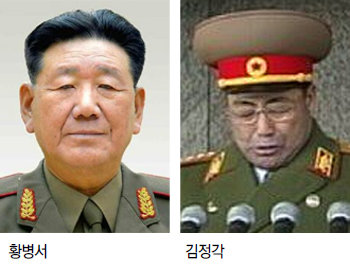 North Korea has appointed Kim Jong Gak, vice minister of the People's Armed Forces, to lead the military's powerful General Political Bureau after dismissing its former head, Hwang Pyong So, who has been considered one of Kim Jong Un's close aides, said South Korea's National Intelligence Service on Monday. Kim Jong Gak is likely to lead a military parade marking the 70th anniversary of the regime's military scheduled for Thursday.
This was reported by the NIS during a parliamentary briefing at the intelligence committee of the National Assembly on Monday, according to Rep. Kang Seok-ho of the main opposition Liberty Korea Party, who is the head of the committee.
"North Korea's party Organization and Guidance Department had led an inspection in the bureau for three months from October," said the NIS. "Following the inspection, Hwang Pyong So was dismissed as chief of the military's General Political Bureau and is presumed to be currently taking ideological education at a high-level party school. Kim Jong Gak was picked to replace him." Seoul's spy agency added that the bureau's Vice Chief Kim Wong Hong has been also dismissed and expelled from the ruling Workers' Party while Ryom Chol Song and Cho Guk Jin have been receiving reeducation since demoted with many other officials also having been fired or executed. It appears that Son Chol Ju and Lee Du Song were appointed as vice ministers of central organization and propaganda departments within the bureau.
Kim Jong Gak was one of the seven North Korean officials who walked next to late Kim Jong Il's hearse in December 2011. He was promoted to head the Ministry of the People's Armed Forces the following year, but was chosen to serve as president of Kim Il Sung National War College in 2013, which was analyzed by some watchers to signal his loss in the power struggle. However, a photo of him visiting the Kumsusan Palace of the Sun in December 2014, sent rumors about him coming back to the political circle, and he has made a successful comeback with the latest appointment.
"North Korea has been mobilizing 12,000 troops to prepare for the military parade at the Mirim Airport in Pyongyang since early December, and chances are high that the North will unveil an assortment of its missiles during the parade," the NIS also reported.
hic@donga.com