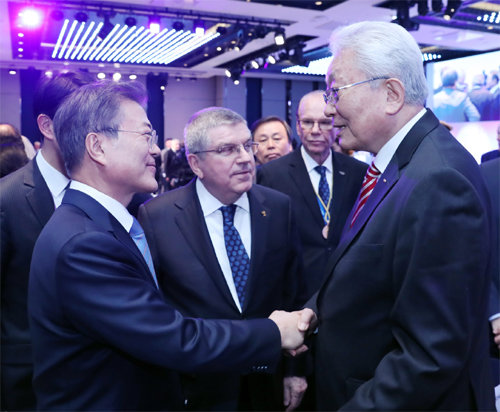 A concrete monument in the form of an arch bridge, the "Olympic Truce Wall" was first unveiled at the PyeongChang Olympic Village in Gangwon Province on Monday.
The International Olympic Committee has been setting up the truce wall since the 2006 Turin Winter Olympics to show its aim of halting conflicts during the games and inspiring peace through sports.
The unveiling ceremony of the truce wall was attended by IOC President Tomas Bach, PyeongChang Organizing Committee President Lee Hee-beom, South Korea Minister of Culture, Sports and Tourism Do Jong-hwan, and North Korean IOC member Chang Ung. Each of them left messages on the wall.
Anyone including athletes and related officials can sign the murals at the Olympic Villages in Pyeongchang and Gangneung. Designed by South Korean artist Yi Je-seok, the walls were named "Building bridges for peace." The 7-meter-wide, 3-meter-high walls will be later put on permanent display at the PyeongChang Olympic Stadium and the Gangneung Olympic Park as legacy projects. "I love you" and doves had been drawn on the mural, and aspiring cross-country skiers at Daegwallyeong Middle School were also seen signing the wall.
North Korean IOC member Chang Ung arrived in the village at around 11 a.m., 20 minutes before the start of the unveiling ceremony, with a blue PyeongChang scarf handed out by the organizing committee around his neck in the freezing weather, which was about minus 8 degrees Celsius. He met with a number of IOC officials including standing member Mario Pescante (Italy), who is the same age with him. When spotted President Bach, Chang greeted him by holding his hand up high, and Bach also expressed pleasure by patting Chang's cheeks and giving a big hug.
"The Truce Wall plays the role of a bridge to connect divided worlds together. That is the main reason South Korea is welcoming guests from all around the world through the Olympics," said Bach during a congratulatory address. Minister Do delivered his hopes that the PyeongChang Olympics would become an Olympics of reconciliation, healing and peace."
Monday's ceremony was also participated by Yiech Biel (South Sudan), an athlete originally from the refugee camp in Kenya and had competed for the Refugee Olympic Team at the 2016 Summer Olympics, as UNHCR goodwill ambassador.
Following the unveiling ceremony, a welcoming ceremony for the first athletes checking in at the village, namely those from Rumania, Belgium and Brazil, was held at the square in the PyeongChang Olympic Village starting at 1 p.m. Upon entrance alongside guards of honor, athletes enjoyed South Korea's cultural performances of traditional percussion quartets and B-boys, lifting the joyful spirit of the Olympic Games.
A series of welcoming ceremonies will be held until Thursday, the eve of the opening ceremony. South and North Korean delegations are scheduled to take part in the welcoming ceremonies on Wednesday and Thursday, respectively, at the Gangneung Olympic Village.
Bo-Mi Im bom@donga.com