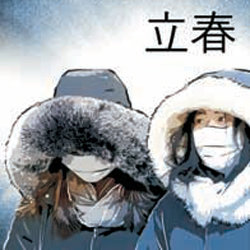 The bitterly cold weather has hit South Korea again after a lull of a couple of days. On Sunday, the temperature will plunge to minus 13 degrees Celsius in Seoul, minus 18 degrees in Yangju, Gyeonggi Province, and minus 19 degrees in Cheorwon, Gangwon Province. This Sunday is Ipchun in Korea, which celebrates the beginning of spring according to the lunar calendar. The cold spell is prompted by the cold Arctic air enveloping the country. With global warming affecting temperatures in the Arctic region, the frigid air pool has zoomed through the unstable jet stream and descended into the lower latitudes. Besides, a blocking high pressure over the peninsula, or high pressure in the upper level of the atmosphere, is making the cold air mass remain locked the Korean Peninsula.
Ipchun is the first of the lunar calendar's 24 seasonal divisions, which marks the coming of spring. Traditionally, Korean people post ipchuncheob, or ipchunbang, words of wisdom or blessing on the pillars or front doors of the house. Commonly written phrase is ipchundaegil, which means a coming spring leads to a great path, wishing a year of happiness and fortune. People would write guktaeminan, wishing a prosperous country. Events marking the day include ipchun-gut, the shamanist ritual, and fortune telling with barley roots.
Around this time of year, local lower farmers get extremely busy delivering flowers for graduation. But, this year, things are not what they used to be. Yangjae Flower Market in southern Seoul predicts that the shipment of flowers for graduation ceremony will be delayed by two or three weeks. Many greenhouse farms had a hard time cultivating flowers due to extreme cold weather that brought the mercury down below minus 10 degrees Celsius. Flower farmers cannot happily welcome the news that rape flowers are budding out in Jeju Island, ahead of this year's Ipchun.
The frigid weather will peak by the middle of the next week, according to the weather agency. People make a joke about the traditional spring message, saying we had better writing ipchundaehan, meaning spring amid cold spell, not ipchundaegil, meaning spring leading to a great path. Seasonal divisions standing for winter include Ipdong, beginning of winter; Sohan, beginning of the great cold; and Daehan, great cold. Sometimes it is colder on Sohan than on Daehan. However, in this unusually freezing weather this winter, it may be much colder on Ipchun, the day when spring is supposed to begin, than on Daehan.
Kwang-Pyo Lee kplee@donga.com