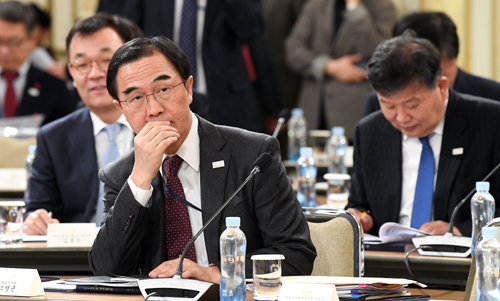 While the South Korean government is in confusion after North Korea's sudden cancelation of a joint cultural event at Mount Kumgang, the concert venues for the North's Samjiyon Orchestra are deeply concerned as well. The joint cultural events are set to take place at Gangneung Arts Center in Gangneung on February 8 and at the National Theater of Korea in Seoul on February 11. But the Ministry of Unification has yet to decide the scale of invitation and if and how general audience will be invited, making it hard to prepare for the events.
"It has been over a week since the visit of Hyon Song Wol, the leader of the Samjiyon Orchestra, and the North Korean inspection team," said an official at the Gangneung Arts Center. "We still don't know whether the seats should be all invitational or on a first come, first served basis, or if and how citizens will be invited."
The situation is similar for the Haeoreum Grand Theater at the National Theater of Korea in central Seoul. "The government has thrown us into confusion by unilaterally announcing that general audience will be invited to the event, without any discussion about selling the tickets to the public in the first place," said an official at the National Theater of Korea. "We are quietly watching the situation for the sake of publicity."
The North Korean inspection team, including Hyon, reportedly showed their strong willingness to perform. "When we suggested a 900-seat Gangneung Arts Center for the venue, Hyon raised her voice and said a 900-seat concert hall is far from enough," the Korean Symphony Orchestra's art director Jeong Chi-yong, who participated in the inter-Korean talks on joint cultural event, said at a press conference marking the 30th day of his inauguration. "The atmosphere was amicable in general but Hyon was vocal about the size of the concert venues."
The Dong-A Ilbo found out that only 800-850 seats will be available for the joint cultural event at the 998-seat Gangneung Arts Center as the North demanded removing the orchestra pit and making a spot on stage for the orchestra. This will make 70 seats in the front not available and those seats in the blind spots and reserved seats will also make dozens more unavailable. "About 50-60 of the 140 orchestra members will dance and sing in front of the stage," Jeong said.
The Gangneung Arts Center is planning to empty the first row because if the orchestra is put on stage, it will be too close to the audience. Reportedly, the venues have yet to prepare VIP seats for South Korean government officials and North Korean high-ranking officials.
Na-Ri Shin journari@donga.com · Seol Lee snow@donga.com