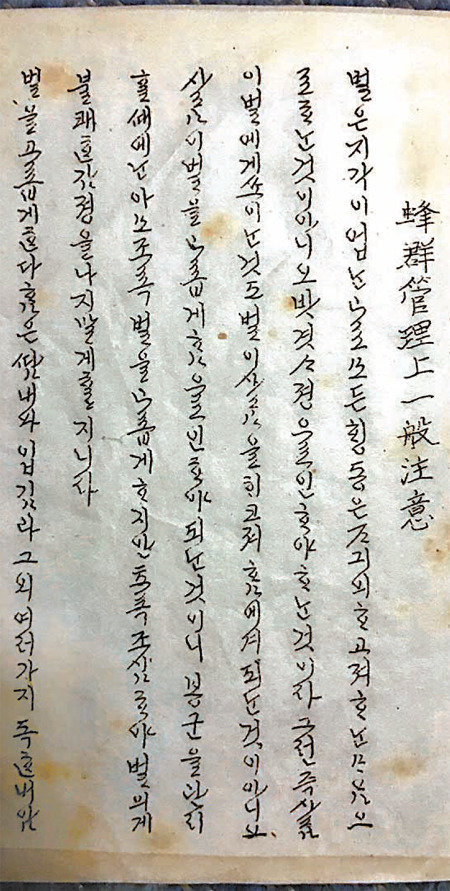 The only original copy of Yangbong Yoji, or Beekeeping Essentials, known as the first beekeeping guide book in Korea, has returned to Korea from Germany in 100 years after its publication. The book was written in Korean by German priest Canisius Kuegelgen (Korean name Ku Gul-gen, 1884-1964) at St. Benedict abbey in Hyehwa-dong, central Seoul, to introduce Western beekeeping technology to the then Joseon Dynasty.
The Overseas Korean Cultural Heritage Foundation said Monday that a ceremony for returning the book was held on Saturday (local time) at Münsterschwarzach Abbey in Germany. The book has been sent back on Saturday to a Benedictine monastery in Waegwan, Chilgok County, North Gyeongsang Province, on a permanent-loan basis.
Beekeeping essentials was published 150 volumes at the time of publication. Several books were thought to have gone to German monasteries shortly after the publication, but no one knows where the books are located except the one at Münsterschwarzach Abbey. There was only copy in the Waegwan monastery. Priest Bartolomeo Henneken (Korean name Hyun Ik-hyun), who was on mission at Waegwan, found the copy in Germany in 2014.
Priest Canisius Kuegelgen was sent to Korea in 1911 as a missionary of St. Benedict Abbey, and was known to have introduced modern beekeeping to Korea for the first time. He returned to Germany in 1950.
"This book has returned to the country where it was originally written in a century, and I hope the bees, God's creature and the love for nature, blossom and flourish in Waegwan as well," said Abbot Michael Reepen of Münsterschwarzach Abbey.
Korean version of the book was published in 2015. The original copy will be under the management of the Waegwan monastery and displayed at the Bee Land Theme Park to open in Marcy by Chilgok County. The painting album of Jeongseon, which was held in Sankt Ottilien Archabbey, Germany, was returned to the Waegwan monastery in 2005 on a permanent-loan basis, marking the 100th anniversary of Benedictine mission work in Korea.
Jong-Yeob JO jjj@donga.com