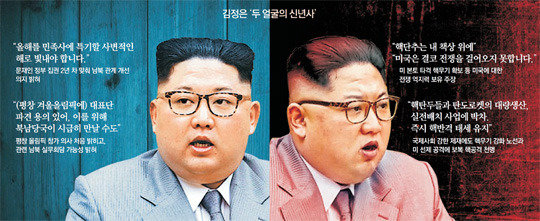 North Korean leader Kim Jong Un has warned the United States that "the nuclear button is on the desk of his office," during his annual New Year's Day address. To the surprise of many, he showed a softened tone towards South Korea, wishing the South success in hosting the upcoming PyeongChang Winter Olympics and even hinting at a possibility of sending a delegation to the games. Kim's remarks signal that the reclusive regime will take a different approach this year ahead of strengthened international sanctions in which it will communicate with the South while confronting the United States, hoping to see the crack between Seoul and Washington in their alliance.
"The entire mainland of the United States is within the range of our nuclear weapons and the nuclear button is always on the desk of my office. They should accurately be aware that this is not a threat but a reality," said Kim on Monday. "We have secured powerful deterrence, and the United States can never a start a war against me and our country."
Kim's bellicose tone, on the other hand, was nowhere to be seen in his well-wishing words towards South Korea. In a more conciliatory note, he declared his wish to adorn this year as "a year to be specially recorded in the history of the nation." He also mentioned the upcoming Winter Olympics held in South Korea for the first time by saying that North Korean athletes could participate in the games, and North Korean representatives may start talks with their South Korean counterparts as soon as possible to discuss sending a delegation.
Such a swift turnaround in Kim's approach seems to intend to create a discord in the South Korea-U.S. alliance and assure that he is the one in control for circumstances on the Korean Peninsula. Some say that North Korea, with the United Nations adopting resolutions four times last year alone to impose sanctions, will try to use South Korea to turn around the situation.
"Kim's unusual mention of the PyeongChang Winter Olympics during his New Year speech apparently reveals his confidence and willingness to improve the inter-Korean relations," the Institute for National Security Strategy under the National Intelligence Service said in its report. "At future talks to discuss Pyongyang's participation in the Winter Olympics, North Korea could demand the suspension of military drills between Seoul and Washington as well as the United States' stopping the regular deployment of its strategic assets, in a move aimed at taking an upper hand in the inter-Korean ties," the think tank added.
In-Chan Hwang hic@donga.com