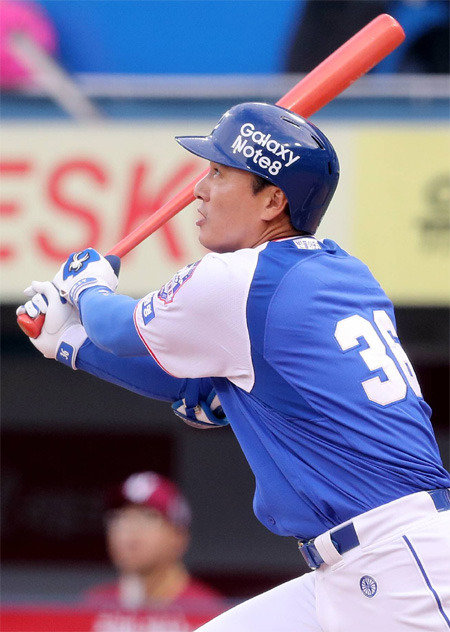 South Korean baseball slugger Lee Seung Yeop presented a big gift to baseball fans on the day of his retirement. He hit the longest-distance homer in this season's Korea Baseball Organization League in his retirement game on October 3.
A two-runner homer that Lee hit in the bottom of the first inning in a game against the Nexen Heroes at the Samsung Lions Park in Daegu on October 3, according to Trackman Baseball, Athlete Media's service that provides pitching and batting information by using military-purpose laser technology. The homer measured 150.4 meters in flying distance, the longest among the two-run homers recorded by all players in the league this year. This finding is based on the analysis of this season's 1,082 homeruns at eight ballparks nationwide except the Gocheok Sky Dome in Seoul.
Lee hit off the Nexen Heroes' pitcher Han Hyeon-hee (24) in his first time at bat in his retirement game, struck the upper section of the spectator stand in outfield of the ballpark and fell to the lower section after crossing over the central right side of the fence. Lee swung a fastball of 148.2 kilometers per hour to garner the hit that measured a top speed of 171.8 kilometers per hour, and flew for 6.2 seconds at a trajectory angle of 28.8 degrees. Sports2i, KBO's official recording agency, measured the flying distance of the homer at 125 meters at the time.
Hong-Gu Kang windup@donga.com