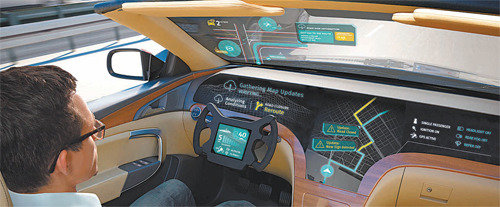 South Korea's LG Electronics has been doubling its effort to strengthen its automobile electronics business, a new source of profits for business-to-business. The electronics giant has made another bold decision to partner with a European digital mapping provider to develop core technologies for self-driving cars next year.
LG Electronics has partnered with HERE Technologies, a global service provider of digital mapping and location service, to offer a next-generation connected car solution. By combining LG's advance telematics technology with HERE's high-precision map data and location services, the solution will be fully developed by next year before commercialization. The telematics refers to remote communications devices used in automobiles, which provide a variety of service including navigation, GPS, car safety and entertainment. LG has been the leader in the global telematics market for five straight years since 2013.
This year, the South Korean tech giant has been a fast mover in developing autonomous vehicle components. In January, LG Electronics signed up for the premium partnership of AUTOSAR, international standards for automotive parts software, and in June, it won a contract to work with a German automaker on supplying next-generation intelligent ADAS (advanced driver assistance system) cameras. The partnering automaker is known as Mercedes-Benz by industry insiders. In October, LG and Qualcomm, a world leader in mobile technologies, signed a deal to launch a joint research and development center to develop V2X (vehicle-to-everything) technologies.
LG Electronics won safety certification on Monday for self-driving components by the international safety certification provider. For the electronics business as a whole, the company is proposing a 1.2 billion-dollar acquisition of ZKW Group, a Austria-based manufacturer of automotive lights.
"With this collaboration, we will present a new standard for communication solutions for autonomous vehicles," said Lee Woo-jong, president of the Vehicle Components Company of LG Electronics. "We will continue to advance the next generation of connected car technologies to help prepare automakers for the self-driving ear."
Sung-Gyu Kim sunggyu@donga.com