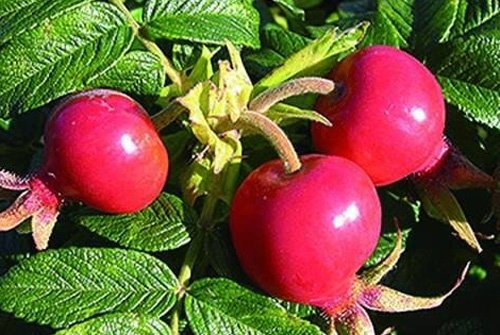 The 310,000 square meters of reclaimed land is coated with fluffy silver grass in the Jinchon Solgae District of the northernmost island of Baengnyeong, Ongjin County, Incheon. Alongside swaying silver grass are also rape flowers, buckwheat flowers, barley, tulips, sunflowers and cosmos. The district indeed offers superb scenic beauty with camellia flowers, which grow naturally in the neighboring Daecheong Island, and rugosa roses, which are known for growing well even in strong sea breeze. Green fields are adorned with all different colors while a trail is set to be made along the freshwater lake and tens of kilometers of agricultural waterways.
Ongjin County currently plans to promote the local agriculture by growing rugosa roses in the 10 hectares of the designated area within the Jinchon Solgae District. Starting with the creation of the first 5 hectares this year, the county will complete the rest of the area by planting 50,000 rugosa roses early next year.
Rugosa roses grown in Ongjin County are recognized for having exceptional quality. With five times more calcium than kiwis, 1.5 times more vitamin than Korean wild grapes, and 3.9 times more polyphenol than blueberries, rugosa roses prevent reactive oxygen species from being formed or removes them before they can damage vital components of the cell.
In cooperation with the Korea Food Research Institute, Ongjin County will also present the health beverage made with locally grown rugosa roses next year. Some 30 farms in the Baengnyeong Island will create an agricultural corporation and cultivate the flowers in the reclaimed land. Within a five-minute drive from the rugosa rose farm, a 432-square-meter processing support center for agricultural products has also been established in Nampo-ri, Baengnyeong-myeon, where all facilities needed to produce the beverage with the Hazard Analysis Critical Control Point (HACCP) certification are equipped such as rooms for processing and washing, juice extractors, filters, storage tanks and packing machines. The facility starts operation in next autumn.
The health beverage maintains the proper level of acidity and sugar, and have a unique smell of lemon and black tea mixed together. Ongjin County filed an application for a patent on a recipe for the beverage of rugosa roses last month.
Hee-Jae Park min07@donga.com