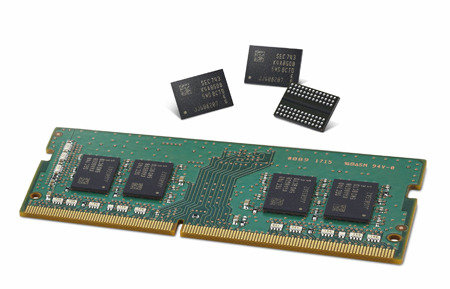 Samsung Electronics has increased its productivity by 30 percent thanks to development of new-generation DRAM, which is the company's flagship product. Accordingly, Samsung is expected to gain the momentum to push ahead with its strategy to widen its technical lead over its competitors.
"Samsung started mass production of the second generation of 10-nanometer class, 8 gigabit DRAM in November for the first time in the world," the company said on Wednesday. As a nanometer equals to one-billionth of a meter, the 10-nanometer class refers that the thickness of circuit is 10 nanometers.
With the development of the next-generation DRAM, Samsung will be able to maintain its strategy of widening its technical lead to the level that will not be caught up by its competitors. Among global DRAM manufacturers, Samsung, SK Hynix and U.S.'s Micron are the only companies having a market share over three percent at 45.8 percent, 28.7 percent and 21 percent, respectively. SK Hynix acquired the technology for 10-nanometer DRAM in November, while Micron is able to produce 20-namometer DRAM for now.
Samsung is currently producing the second generation of 10-nanometer DRAM for computer only but plans to upgrade the product portfolio to include chips for server, mobile device and graphic card and expand mass production of all DRAM chips.
"With development of innovative technology through a new way of thinking, Samsung was able to exceed the technical limitations regarding the miniaturization of semiconductor," said Jin Gyo-young, president of Memory Business at Samsung Electronics. "We will make the premium DRAM market be led by 10-namometer DRAM and strengthen its competitiveness against competitors."
Sung-Gyu Kim sunggyu@donga.com