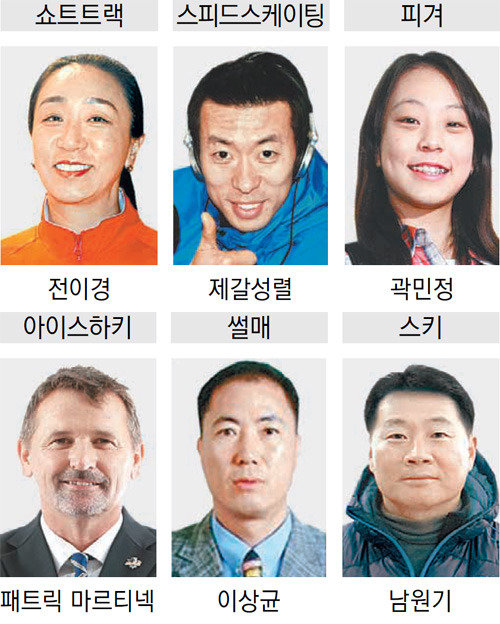 With the festival of snow and ice just 50 days away, the Dong-A Ilbo has appointed commentators for major events of the 2018 PyeongChang Winter Olympics. The self-proclaimed top experts in their specialization events will guide readers to more details in the Olympics with their sharp eyes and unique analyses.
South Korean short track legend Chun Lee-kyung will cover the event that is the country's gold mine. Chun, who won four gold medals in the 1994 Winter Olympics in Lillehammer and the 1998 Games in Nagano, will also participate in the PyeongChang Winter Olympics as the coach for the Singaporean national team.
There is a non-Korean commentator. Patrik Martinec, the head coach of the South Korean hockey team Anyang Halla, is from the Czech Republic, which will face the South Korean national ice hockey team in the first match in the PyeongChang Games. Noting that South Korea has a potential to become a sensation, he said his country is aiming at its first gold medal since the Nagano Winter Olympics.
Figure skater Kwak Min-jeong and speed skater Jegal Seong-ryeol are Olympians-turned commentators. Kwak participated in the 2010 Winter Olympics in Vancouver, while Jegal, who coaches the Uijeongbu City team, competed in the Nagano Winter Olympics. Nam Won-ki, chairman of the alpine committee under the Korea Ski Association, will cover ski events, while Lee Sang-kyun, an executive of the Korea Bobsleigh & Skeleton Federation, will commentate on sled games, which are South Kore's strategic events.
Jong-Seok Kim kjs0123@donga.com