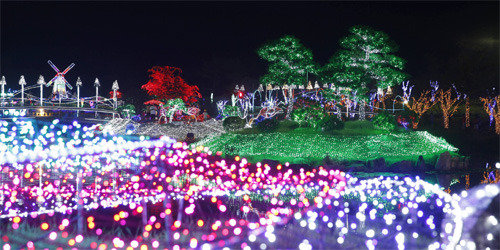 On Dec 7, 2007, a big oil spill blackened once beautiful beaches in South Chungcheong Province, South Korea. About 12,547 kiloliters of crude oil from the Herbei Spirit oil tanker covered scenic beaches and white sand. Ten years later, the country's once nearly devastated west coast has miraculously risen. A series of various festivals are waiting for tourists coming to the region to enjoy attractions to the fullest. There will be unique sights that combine beautiful nature and advanced technology.
Kkotji beach ocean park in Anmyeon Island, Taean County, where the international flower exhibition was held in 2002 and 2009, will become a paradise of lights, hosting a new festival using lights. According to the municipal government of South Chungcheong on Monday, Nature Agricultural Corporation will open "Korea Flower Park" in a space of 114,263 square meters, this Friday. The park features millions of LED lights along with pine trees, camellia, and sunset in the west coast, creating a perfect world of light. It has also beautifully designed installations such as Luminary Road and Searchlight Zone.
Daecheon beach in Boryeong City, where the mud festival was held in summer, will have winter sea love festival under the theme of "love and confession" this winter. It will be the first kind of festival to be held this year, running from this Saturday to Jan. 1 of next year. A proposal event and a Christmas eve performance will be prepared for 50 couples who sign up for these events in advance.
Jangeun Village in Cheonbuk Township, which takes about 30 minutes by car from Daecheon beach, is famous for grilled oysters as well as steamed oysters. Other best dishes made with oysters include oyster rice, oyster noodles, oyster pancake and raw oyster with the water-based radish kimchi of dongchimi.
The ice fountain festival begins Saturday in the Alps village of Cheonjang Village in Jeongsan Township. The festival continues until Feb. 18 next year. In the whole village, which will be "frozen" during the festival, there will be lots of experience programs for families including ice sculptures, bobsleds and cow carriages. The gigantic ice fountain and stalactite-like icicles will be one of the spectacular sights. In the neighborhood of Janggok Temple and Mt. Chilgap Provincial Park are many traditional restaurants serving set menu with seasoned wild vegetables, cheonggukjang, fermented soybean soup, and soft tofu.
"The Boryeong and Taean area offers a variety of festivals, and there's plenty to see, eat and enjoy," said Lee Chang-kyu, a director of the Ministry of Culture, Sports, and Tourism. "It will be a choice without regret."
Ki-Jin Lee doyoce@donga.com