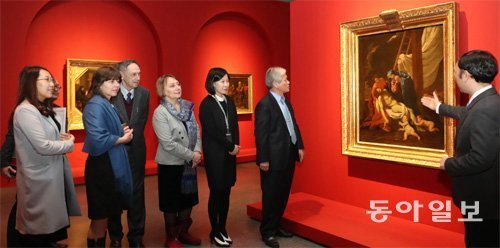 An exhibition displaying French artworks collected by the Russian imperial family, aristocrats and businessmen will be held in Korea.
A special exhibition titled "The State Hermitage Museum Exhibition: French Artworks from the Winter Palace" will be held at the National Museum of Korea in collaboration with the State Hermitage Museum in St. Petersburg, Russia.
The exhibition, which will be open to public from Tuesday, displays a total of 89 French paintings, sculptures and drawing, including paintings collected by Catherine the Great, empress of Russia in the 18th century, and impressionist artworks owned by Russian businessmen in the early 20th century.
The State Hermitage Museum is a world class museum that boasts as many as 3 million artworks. It is especially famous for its European art collection. The museum was constructed in 1762 and used as the emperor's palace. Currently, the museum possesses the largest number of French arts following France.
The Russian imperial family, which attempted to transform the country into a modern state on the basis of its strong authority, tried to embrace superior cultures of Western European countries from the early 18th century. The owner of the Winter Palace Catherine the Great reshaped the country's art system, creating an academy led by the imperial family and collected 4,000 pieces of European paintings, taking an advice from French philosopher Denis Diderot. Her passion for art collection was followed by aristocrats and businessmen in the 20th century such as Sergei Shchukin and Ivan Morozov.
A significant amount of art collection kept in the Winter Palace and the ones owned by the upper class returned to the possession of the country after the Russian Revolution. "The exhibition will give visitors opportunity to experience the taste of Russian aristocrats, the cultural atmosphere and the traces of their wealth," said curator Kim Seung-ik. This second cultural exchange exhibition between the National Museum of Korea and the State Hermitage Museum will be held until April 15.
Yeun-Kyung Cho yunique@donga.com