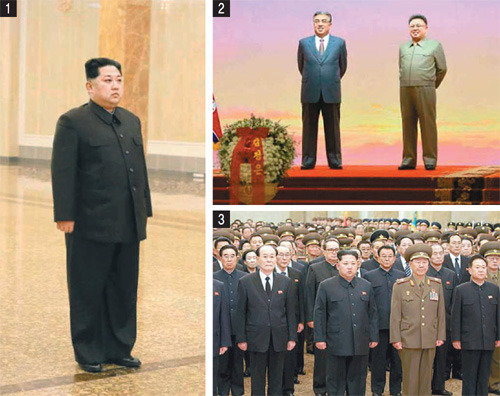 North Korean leader Kim Jong Un has reportedly paid tribute to his late father Kim Jong Il. The young dictator, who declared the completion of the nuclear force marking the sixth anniversary of his taking power, now appears to be promoting himself to the same ranks of the regime's former rulers. North Korea's official state newspaper Rodong Sinmun reported on Monday that Kim Jong Un visited Sunday the Kumsusan Palace, in which the bodies of his father and grandfather Kim Il Sung are laid, to commemorate the sixth anniversary of his father's death.
The news agency reported Sunday that only senior officials including Vice Marshal Choe Ryong Hae, attended the memorial ceremony without mentioning of Kim Jong Un's visiting a shrine, raising questions about the whereabouts of the young leader. There was an observation that Kim Jong Un might have not been at the memorial, but the ruthless dictator was reappeared in the media, being in the spotlight.
The state media released two photos of Kim Jong Un on the front page of the newspaper. One is Kim staring at front by himself in a room. Unlike the past, the media outlet did not put any photo in which he bowed his head to pay tribute. Another is a basket of condolence flowers on which Kim Jong Un's name was written, laid in front of the statues of his grandfather Kim Il Sung and Kim Jong Il. It has stressed the third generation of leadership by putting the photo of the three leaders on the same page.
This is in stark contrast to the previous reports. The North Korea leader accompanied his wife Ri Sol Ju and dozens of senior officials to commemorate the first, second and third anniversaries of his father's passing. North Korea's first lady's skirt suit on the second anniversary had made headlines.
The young dictator commemorated the fourth and fifth anniversaries together with executive officials, but this time he visited a shrine all by himself. "With the declaration of completing the state nuclear force, Kim Jong Un appears to have confidence that he is now joining the same ranks of his father and grandfather in ruling the regime," a government source said.
North Korean news agency reported that (Kim) visited an eternal hall of the mausoleum, where Kim Jong Il is laid in state, paying noble tributes and solemnly vowed to carry on the fight more unflinchingly as a revolutionary warrior.
In-Chan Hwang hic@donga.com