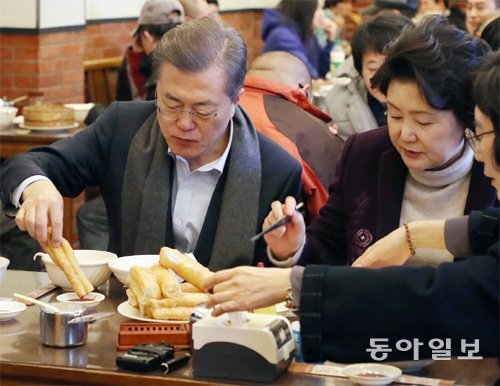 South Korean President Moon Jae-in started the second day of his state visit to China with breakfast at a local restaurant in Beijing conversing with ordinary Chinese people.
President Moon and First Lady Kim Jung-sook visited a small restaurant called Yonghe Xian Jiang near Diaoyutai State Guesthouse early Thursday. The menu included "youtiao," Chinese fried churros, accompanied with soy milk soup called "doujiang" – a popular combination for breakfast in the country. They also had "xiaolongbao," steamed dumpling, and "huntun," dumpling soup. Korean Ambassador to China Noh Young-min was there, too.
The payment, 68 yuan, was made using a mobile payment system. Moon showed keen interest in it and asked Ambassador Noh, "Does this make all payments?" Mobile payment platforms such as Alipay and WeChat Pay are widely used in China.
Moon attended the opening ceremony of the Korea-China Economic and Trade Partnership and did not have another schedule before the official welcoming ceremony on 4 p.m. (local time). Following dinner at the hotel the day before, he had lunch at the hotel to prepare a bilateral summit.
weappon@donga.com