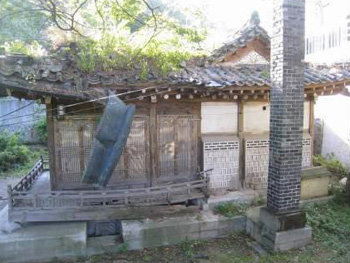 The sites of former residences of Prince Anpyeong, the third son of King Sejong the Great of the Joseon Dynasty, and Hyeon Jin-geon, the author of "A Lucky Day" and a pioneer in Korea`s modern literature, have been sold to a new owner.
According to GG Auction, a court auction information provider, on Thursday, four lots of land (1,635 square meters) in Buam-dong, Seoul were auctioned off on October 13 at the Seoul District Court. The lots are adjoined sites of Prince Anpyeong`s and the novelist`s residences. A sole bidder made a successful bid for the sites by offering 3.4 billion won (3 million U.S. dollars), 81 percent of the assessed value.
The 108-square-meter site of Prince Anpyeong`s residence is designated by the Seoul Metropolitan Government as a tangible cultural property. The aged house currently standing on the land is a Korean traditional tiled-roofed house that was built in later generations. An adjacent and empty lot is the site of Hyeon`s former residence. The writer is said to have spent his later years writing novels.
"As an individual won, I don`t know what he or she will use the land for. However, it seems to be very difficult to develop the land because it involves a cultural property site," said an official at GG Auction.
achim@donga.com