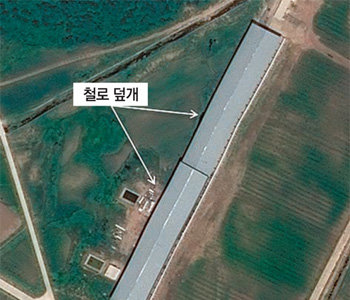 North Korea has been confirmed to be conducting work to put a cover on the missile launch tower, whose repair and renovation work was completed, at Sohae Satellite Launch Station in Dongchang-ri, Cholsan County, North Pyongyang Province, Japan's Kyoto News Agency reported on Sunday. The station was the site where the North launched the "Unha 3" long-range missile in 2012.
Citing diplomatic sources in Washington on the day, Kyoto said that the U.S. intelligence authority judges that the work to place a cover on the missile launch tower will be completed in August. It added that given that (the installation of the cover) is a measure to dodge monitoring by U.S. spy satellites, the U.S. has beefed up surveillance, hinting that the North will step up preparation to launch a missile in the future.
Earlier, it was revealed that the North had erected a 67-meter-high missile launch tower at the facility. As the installation of the cover has also been confirmed after the completion of the launch tower, the claim over "October crisis" is gaining further ground. Kyoto said, "The U.S. intelligence authority predicts that North Korea will take provocative actions including missile launch, marking the 70th anniversary day of the founding of the North Korean Workers' Party on October 10."
Meanwhile, North Korea said it will boycott the military sports competition that will take place in South Korea. According to the South's National Defense Ministry on Sunday, the North officially informed CISM (International Military Sports Council) through the North Korean People's Army's sports advisory committee on Friday that it will not participate in the "2015 CISM World Games," which will take place in Mungyeong, North Gyeongsang Province in October.
bae2150@donga.com