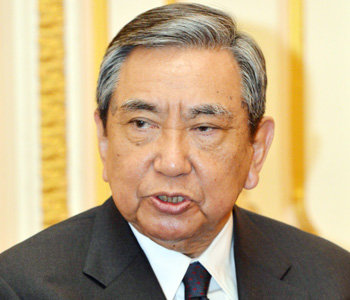 Japan`s former Chief Cabinet Secretary Yohei Kono, who issued a landmark 1993 statement apologizing over his country`s wartime sex slavery issue, criticized the country`s ruling Liberal Democratic Party (LDP) for trying to whitewash the issue.
According to the Japanese media, including the daily Tokyo Shimbun, Kono, during a lecture in Nagoya, criticized the LDP for finding faults with his 1993 remarks recognizing Japan`s forcible mobilization of the so-called "comfort women." He made the remarks during a news conference right after he announced the landmark Kono Statement.
"Women who served at military brothels were generally dragged to them against their will," he stressed. "As soon as they set foot on the brothels, it was impossible for them to return home. They had to receive several men a day and were unable to reject them." Separate from the question of whether the women were taken away at gunpoint, he added, many of them were deceived or forced into sex slavery. He noted that at the 1993 news conference, he used the term "forced mobilization" in the sense that it connoted the forcible nature in a broad meaning.
"The essence of the `comfort women` issue lies in how much their human rights were negated and how horrible situation they went through," he said, adding it is "fair" to offer the victims a heart-felt apology. "Why can`t (Japan) say sorry to them? Isn`t it fair (for Japan) to find a path on which a new Japan should take from that point?" He stressed that the more excuses Japan makes over the issue, the more pride Japan will lose.
Some LDP lawmakers on Tuesday proposed to Japanese Prime Minister Shinzo Abe that the Japanese government strongly rebut Kono`s remarks on the forcible mobilization at the 1993 news conference.
Meanwhile, eight civic groups from across Japan held a rally in front of the Japanese parliamentary building in Tokyo on Wednesday, urging Abe to offer an apology to victims of Japan`s colonial rule in his planned statement marking the 70th anniversary of World War II`s end.
bae2150@donga.com