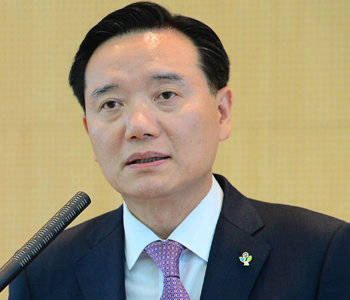 President Park Geun-hye has chosen chief prosecutor Kim Hyeon-ung (aged 56, photo) of Seoul Supreme Prosecutors` Office as a candidate for the currently-vacant justice minister. If he is appointed, it would be the first time in 18 years since 1997 when chief prosecutor Kim Jong-gu became justice minister under the Kim Young-sam administration.
Candidate Kim served as a vice minister for 14 months when Prime Minister Hwang Gyo-ahn was working as justice minister. The nomination of Kim who is from Goheung, South Jeolla Province can be seen as selecting the government's high-ranking officials regardless of their geographical background given the fact that most of prosecution's key posts are held by those from the Gyeongsang provinces.
If Kim passes confirmation hearing by the National Assembly to be appointed as justice minister, he will be the second minister from Jeolla region after Labor Minister Lee Gi-gwon, who is from Hampyeong, South Jeolla Province. Kim's father is a former judge-turned lawmaker Kim Soo who was elected as an independent in 1979 and later joined the Democratic Republican Party of former President Park Chung-hee.
Kim, a 16th graduate of the Judicial Research and Training Institute, is two-year junior than Prosecutor General Kim Jin-tae. Attention is being drawn to what effect it would bring to personnel management as a junior overtakes his senior in a government appointment.
egija@donga.com